Raise a Floppa - The Loop
Play Sound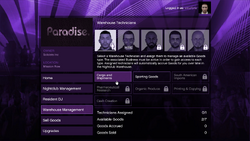 Warehouse Management is a Nightclubs management application in Grand Theft Auto Online introduced as part of the After Hours update.
Description
"
Okay, so our club's a heaving mess of hormones and pheromones, it's amazing down there, but that whole warehouse is unused. Now, I know I said I'd stay out of it, but you should start running your other interests through it. Get on the computer system and assign the Warehouse Tech to start accruing goods on site. I am by no means an accountant, but this is good advice. Take it!
"
— Tony Prince to the player
After completing the initial setup of the player's Nightclub, access is provided to the management computers in the office and warehouse levels.
The Warehouse Management section allows the player to allocate warehouse technicians to each of their existing illicit businesses. The seven goods types are classified by the type of business and are only available if the player already owns the corresponding business.
Cargo and Shipments (CEO Office Special Cargo Warehouse or Smuggler's Hangar)
Sporting Goods (Gunrunning Bunker)
South American Imports (M/C Cocaine Lockup)
Pharmaceutical Research (M/C Methamphetamine Lab)
Organic Produce (M/C Weed Farm)
Printing & Copying (M/C Document Forgery Office)
Cash Creation (M/C Counterfeit Cash Factory)
If a player does not already own the required business, the warehouse goods will be locked.
Initially, one staff member, Yohan, is available to allocate to any one of the seven possible goods types. Four more technicians can be hired and assigned to goods accumulation allowing for up to five of the seven possible goods types to be accrued simultaneously. Only one tech can be assigned to each goods type so the player should only hire techs for the number of business they own. Further technicians can be hired for:
Yohan: Free with setup.
Tech 2 $141,000
Tech 3 $184,500
Tech 4 $240,500
Tech 5 $312,000
Players can reassign their tech to other goods types at any time, so a single tech can still produce a full warehouse over a long period of time.
Production and storage
Once a technician is allocated to a category of goods, they will accrue those goods automatically with no further input from the player. Unlike running those businesses themselves, no supplies will need to be sourced or purchased.
Unlike most other business activities, the goods will continue to accrue in any session type, they are not restricted to public lobbies only, however they can only be sold in public lobbies.
Depending on the upgrades purchased with the club, the amount of crates of goods that can be held in stock and the rate of production will vary. The club comes with one warehouse floor by default and each subsequent floor doubles that storage capacity. The equipment upgrade option doubles the production rates for each of the goods.
With the PS5 and Xbox Series X|S releases of Grand Theft Auto Online, Goods related to Motorcycle Club Businesses, such as Cash Creation and Organic Produce, pay 35% more from their original value. The 1.59 update on April 26, 2022 later added this updated value to the PC and Enhanced Edition versions.[1]
| Goods | Value per crate | Minimum storage limit (1 / 5 floors) | Production rate per crate (def. / upgr.) | Time until full (upgr.) | Value if full (upgr,) | Value per hour (upgr.) |
| --- | --- | --- | --- | --- | --- | --- |
| Cargo and Shipments | $10,000 | 10 / 50 | 2h 20m / 1h 10m | 58h 20m | $500,000 | $8,571 |
| Sporting Goods | $5,000 | 20 / 100 | 1h 20m / 40 m | 66h 40m | $500,000 | $7,500 |
| South American Imports | $27,000 | 2 / 10 | 4h / 2h | 20h | $270,000 | $13,500 |
| Pharmaceutical Research | $11,475 | 4 / 20 | 2h / 1h | 20h | $229,500 | $11,475 |
| Organic Produce | $2,025 | 16 / 80 | 40m / 20m | 26h 40m | $162,000 | $6,075 |
| Printing and Copying | $1,350 | 12 / 60 | 30m / 15m | 15h | $81,000 | $5,400 |
| Cash Creation | $4,725 | 8 / 40 | 1h / 30m | 20h | $189,000 | $9,450 |
Business Battles
When there are three or more players in a free-mode session (Can also be an Invite-Only session), the player can engage in Business Battles to gain additional stock for their club. This stock is not restricted to the types of businesses the player owns, enabling them to acquire goods they cannot otherwise produce themselves.
Selling goods
Sell goods produced by the warehouse techs. The goods can be sold by type, by special order or selling total inventory.