Raise a Floppa - The Loop
Play Sound
---
---
Museum Piece is a mission given to Niko Bellic by Ray Boccino in Grand Theft Auto IV.
Plot
Ray wants Niko to sell the load of diamonds they obtained in the earlier mission to a buyer at a deal in a museum. Johnny Klebitz will be there as well with Niko to provide support and take his cut of $1 million back to The Lost MC. However, the deal goes horribly wrong upon an interruption.
Description
Ray meets Niko at Drusilla's and they talk in the kitchen after Ray hangs up his phone. Ray yells at Niko for not calling him sooner since he needs him to sell the diamonds. Niko tells Ray that he will only do it if he promises to find Florian Cravic for him, to which Ray reluctantly agrees. He then sends Niko to The Libertonian museum in midtown Algonquin to meet up with Johnny Klebitz, a member of The Lost MC who had already participated in another deal with Niko, so they can sell the diamonds to the Jewish Mob representatives, Isaac Roth and Mori Green. During the deal, Luis Fernando Lopez, a guy who is a buddy of Tony Prince, ambushes the trade and kills Mori. Isaac takes the diamonds while Johnny grabs the money, Luis tries to take back the diamonds from Isaac, and Niko is forced to shoot his way through Isaac's henchmen to exit the museum empty-handed. After getting out, killing Isaac's men that were lying in wait outside and escaping police pursuers, Niko calls Ray and informs him of the what went on in the museum. A furious Ray tells Niko to meet him later so they can deal with Johnny.
Mission Objectives
In order to complete the mission the player must:
Enemies
Walkthrough
After the initial cutscene, Niko heads over to the Libertonian museum in Middle Park, Algonquin. He meets Johnny Klebitz at the side entrance to the Libertonian. They meet the buyer, Isaac Roth with his men inside. A cutscene shows the diamond deal ambushed by Luis Fernando Lopez. Johnny takes the money and flees, and Luis steals the diamonds from Isaac, while Niko has to shoot his way out of the museum.
Niko remains in cover and takes out any Mafia or Jewish Mob members. He then fights his way through the enemies and when he is at the end of the lane, he turns left and left again to go down the stairs. He shoots the enemies coming up the stairs and gets in cover near the bottom of the stairs. A armor pickup can be obtained once Niko gets to the bottom of the stairs in a small, low booth.
He kills the rest of the Mafia and Jewish mobsters and goes out of the door (South of the North Entrance). He follows the path and gets out of the museum, eliminating anyone who tries to block in the way. Once the player gets outside, they can immediately shoot down the drivers of the cars parked outside and must lose the potential wanted level. Isaac's Crew will give chase in their cars, attempting to kill Niko, Niko will call Ray and explain what happened once losing the enemies. (The achievement/trophy Impossible Trinity is gained on completion.)
Deaths
Video Walkthrough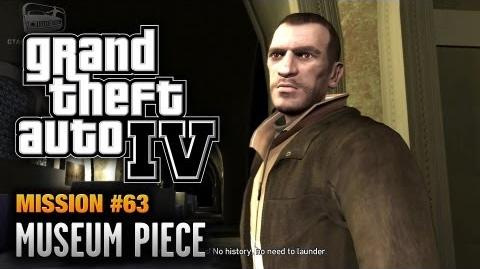 Gallery
Trivia