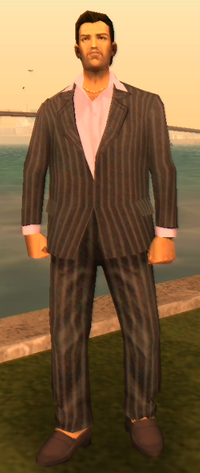 The Mr. Vercetti outfit is an outfit in Grand Theft Auto: Vice City that is acquired by Tommy Vercetti by purchasing The Pole Position Club, which is possible after completing Shakedown. The outfit can be found outside the Collar and Cuffs store in Ocean Beach. The outfit consists of a grey pinstriped suit, pink shirt and grey loafers.
The player can use the Mr. Vercetti outfit to eliminate a one or two star wanted level even if Tommy Vercetti is already wearing the outfit. The outfit is possibly a reference to Miami Vice; it is based on an outfit Ricardo Tubbs (Philip Michael Thomas) is seen wearing. The outfit may also be another reference to the 1983 film Scarface; it is very similar to the outfit Tony Montana wears during the last part of the film, including his last stand.
Trivia
The Mr. Vercetti outfit is very similar to the Soiree Suit, with the coloring and sleeves being the only differences between the two; implying the suit is made specifically for the player and thus more expensive.
The cutscene model of the suit is different from the in-game model; the loafers are cream instead of dark gray and the suit itself is a lot lighter.
In the beta version of Grand Theft Auto: Liberty City Stories, the Leone's Suit was originally a retextured version of the Mr. Vercetti outfit.
Gallery
Community content is available under
CC-BY-SA
unless otherwise noted.