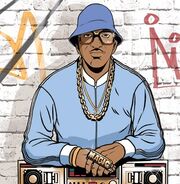 "
Comin' to you live from a secret location in Vice City, so officers, if you're listenin', and I know you are, don't try to stop us. You'll never find us. You can't stop us because we're underground.
"
— Mr. Magic
Mr. Magic, born John Rivas (March 15, 1956- October 2, 2009) , was the DJ for the Wildstyle Pirate Radio and appears in Grand Theft Auto: Vice City. He had a dislike of the Vice City Police Department and Yuppie and the Alien.
Biography
Mr. Magic was born as John Rivas on March 15, 1956 in The Bronx, New York. He debuted in 1981 on WHBI-FM in New York City with the first exclusive rap radio show to be aired on a major station. Billing itself as Rap Attack, Magic's show featured Marley Marl as the DJ and Tyrone "Fly Ty" Williams as the show's co-producer. Magic moved to WBLS-FM in July 1982. Magic's reign on the New York City airwaves lasted six years and was instrumental in broadening the scope and validity of hip-hop music. Mr. Magic recorded one 12" single as an artist "Magic's Message (There's A Better Way)", produced by Spyder D for Posse Records in 1984.
During the mid-80s there was a rivalry between Mr. Magic and Kool DJ Red Alert, who hosted a weekly show on WRKS-FM. The feud also played out between proxy war rap groups, the Juice Crew and Boogie Down Productions (see The Bridge Wars). The Juice Crew - headed by Mr. Magic's on-air assistant, DJ Marley Marl - was named after one of Magic's aliases, "Sir Juice". In April 2000, Mr. Magic began to take on a new role, with new faces; Kdabra, and Mah Gambino (aspiring rap artists). Mr. Magic first met Kdabra then was introduced to Mah Gambino, and soon discovered their lyrical capabilities. He then took them under his wing as their manager and offered them positions to become interns at Hot 97 FM on his then show "The Classic Showcase" with Fly Ty, and DJ Mister Cee.
Death
As confirmed by DJ Premier, Mr. Magic died on the morning of October 2, 2009 in Brooklyn, New York from a heart attack at the age of 53.
GTA Works