"
Morningwood is known to be one the cleanest and safest neighborhoods in Los Santos, which still means that it's filthy and dangerous by most standards. It has a vibrant, ever-changing shopping district, because most stores go out of business in six months when they can't afford the rent.
"
—
GTAV
digital manual
Morningwood is a neighborhood in northern Los Santos, San Andreas in Grand Theft Auto V and Grand Theft Auto Online. It is bordered by Richman to the north, Backlot City to the south, Del Perro to the west, and Rockford Hills to the east.
Description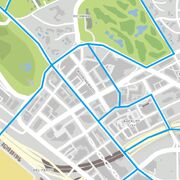 Morningwood makes up one of the affluent upper class neighbourhoods in the city of Los Santos. The neighbourhood consists of a few luxurious mansions along with high-end businesses, such as G&B. Aside from the clothing stores, there are also a number of vintage theatres located in the southern end of the neighborhood, one of which can be interacted with during gameplay.
Morningwood is organised into a strip of land going north-south. There is a main road known as Morningwood Boulevard that contains the neighbourhood's businesses in the southern end of the street along with houses in the north. The neighborhood is divided into a residential district and a business district.
Events of GTA V
Morningwood is the residence of the family of Ferdinand Kerimov, who the protagonists "rescue" from the IAA HQ in the mission Three's Company, and who is then tortured by Trevor in the mission By The Book. It is in this latter mission that, while being transported to the airport by Trevor, Kerimov tells him that he just wants to go home to his family who lives in Morningwood. 
Prominent Appearances in Missions
Grand Theft Auto V
Grand Theft Auto Online
Influence
The neighborhood is based on Westwood, Los Angeles.
Notable Residents
Roads and Streets
Places of Interest
Businesses
Gallery
Trivia