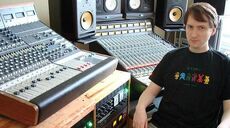 Michael Hunter (born in Glasgow, Scotland), known under the aliases of Pablo, is the Scottish musician and composer of the theme from Grand Theft Auto IV, Soviet Connection and incidental music in the game. He also composed the theme and some incidental music for Grand Theft Auto: San Andreas. He is from Glasgow, Scotland. On August 22, 2011, he released his first album, State of Flux, under his own music company, OLBAP Music. On August 29, 2018, the second album of Michael, Circuit Brain, has been released.
His name might be the inspiration for the names of the two gubernatorial candidates of the State of Liberty, Michael Graves and John Hunter. The character Michael Hunt may be also a reference to the composer.
External Links
Community content is available under
CC-BY-SA
unless otherwise noted.