Michael Hollick (born August 5, 1973 in Brooklyn, New York) is an American actor, voice actor, singer and musician who has appeared in television shows such as Sex and the City and Law & Order.
He is best known for providing the voice of Niko Bellic, the main protagonist of the highly acclaimed Grand Theft Auto IV; his voice work in GTA IV won him the Best Male Voice Actor award at the 2009 Video Game Awards; he also starred in Homefront as part of the motion capture cast.
Rockstar Games Conflict
When Hollick saw the success of GTA IV, he tried to negotiate for more money, saying that he had no idea that the game would be so successful. However, he was denied. Hollick was paid about $100,000 for his voice acting and motion-capture work over the course of about 15 months from 2006 to 2007. Hollick was paid about $1,050 a day for his work on the game, about 50% more than the standard Screen Actors Guild-negotiated rate for actors, although he claimed that it was still a fraction of the income he would get from a film or TV-show performance, and that he was upset about not getting residuals from game sales, putting the blame on the union for not securing such agreements.[1]
Due to this incident, Hollick did not return as Niko's voice actor in GTA IV's two expansion packs: The Lost and Damned and The Ballad of Gay Tony; instead, Rockstar Games used Hollick's pre-recorded acting from GTA IV for the DLC missions in which the character appeared.[2] Despite this, he is still credited in both games.
Personal Life
Living in Las Vegas, Hollick is married to Angela Tsai and in 2010 his first child, Maxwell Ming Hollick, was born.[3]
On July 13, 2013 Hollick's wife Angela had their second child, Eva Hollick.
GTA works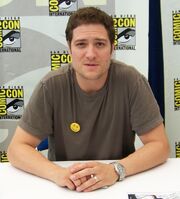 Trivia
References
External Links
Community content is available under
CC-BY-SA
unless otherwise noted.