Maze Bank Foreclosures is a website in Grand Theft Auto Online introduced in Bikers update. Players can purchase and customize Clubhouses, Bunkers, Hangars, Facilities, Nightclubs and Arcades from this site.
Clubhouses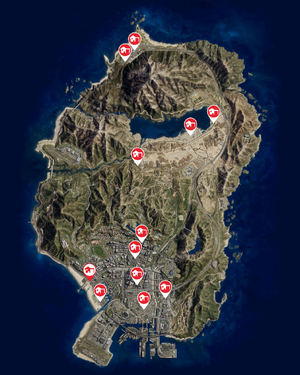 The following are Clubhouses that the player can purchase.
Locations
Clubhouses
Clubhouse
Location
Image
In-game description
Price
Del Perro Beach Clubhouse
7 Del Perro Beach

This functional ground floor property used to be a soup kitchen, and repossessing that kind of attack on American values isn't just business for us - it's pleasure. Now available for purchase by a patriotic entrepreneur or kingpin, this place will be serving the community again in no time.
$365,000
Downtown Vinewood Clubhouse
2214 Clinton Avenue

Don't just sit there gorging on welfare and compassion. Take a stand for the trickle down economy today. Plunge capital back into your community. Buy up every last derelict and turn it into a living, breathing, buzzing hive of fugitives and meth heads. It's time to be the change, people.
$472,000
Grapeseed Clubhouse
2111 East Joshua Road

If you're looking for somewhere that's off the beaten path you just found it: miles from anywhere, deemed hazardous by the Los Santos Building Standards Commission, and the last occupants died in murder-suicide pact. How many reassurances of total privacy do you need?
$225,000
Great Chaparral Clubhouse
101 Route 68

We all thought there was a rock bottom, but nope, it turns out the value of a place like this just falls and falls! Get in here before we burn it for kicks. The authorities just want to forget it exists, so go wild.
$200,000
Hawick Clubhouse
1778 Hawick Avenue

You know a property must be something really special when the previous occupants have such a hard time letting go. You just can't fake that kind of helpless desperation and rage, and in a world as cynical as this that's the best review of all.
$495,000
La Mesa Clubhouse
137 Capital Boulevard

The locals assumed it was abandoned, but in fact this spacious warehouse was the heart and soul of the Los Santos snuff industry for years. Now tax hikes are forcing those pioneering filmmakers out of business, so this is your chance to buy your way under the radar and stay there for good.
$449,000
Paleto Bay Clubhouse
1 Paleto Boulevard

You might assume this is a glass-half-empty kind of place, but the people of Paleto believe the glass is actually half full of cut-price real estate, disenfranchised workers and raw opportunity. That's right, this dingy storage unit is a step towards a brighter future for us all.
$242,000
Paleto Bay Clubhouse
68 Paleto Boulevard

Sure, coastal small town America has mile after mile of foreclosed retail premises within fifty feet of a church and a gun store, so why choose this one? Well ask yourself this: can you think of a better way to blend in and disappear? Act now before it stops making sense.
$250,000
Pillbox Hill Clubhouse
75 Elgin Avenue

The repo guys who raided this place died of smallpox three days later, which is almost certainly a coincidence and has in no way affected the valuation of the property. And hey, worst case scenario, you couldn't pay for a more robust security system.
$455,000
Rancho Clubhouse
1334 Roy Lowenstein Boulevard

This little gem is nestled so snugly in the heart of longstanding urban squalor that we'd forgotten it was even on our books. As far as we can tell it's not on any property register, so just give us the cash and make it disappear.
$420,000
Sandy Shores Clubhouse
47 Algonquin Boulevard

Are you a real fixer upper? Can you share the cool desert evenings with packs of wild dogs and openly incestuous couples? If so this is the project for you. It's got nothing but potential.
$210,000
Vespucci Beach Clubhouse
4 Goma Street

You know times are tough when not even a million hipsters getting a tattoo of a swallow in flight on their taint could save this place from going under. Bad news for those who wanted to follow up with that bold yet simple triangle design, but the rock bottom pricetag is good news for you.
$395,000
Bunkers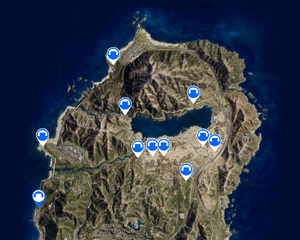 The following are Bunkers that the player can purchase.
Locations
Bunkers
Bunker
Location
Image
In-game description
Price
Paleto Forest Bunker:
Paleto Forest, west side of Procopio Promenade and approaching Paleto Cove.

Ever wanted to give something back to the untouched woodlands that have given you so much peace and joy? Have you considered a thousand tons of concrete and titanium? If you're looking for that elusive dovetail between crazy militarism and environmental diligence, you found it.
$1,165,000
Raton Canyon Bunker:
Raton Canyon, on a large portion of the area, located between the Calafia Road bridge and the Calafia Train Bridge, accesed via the Cassidy Trail.

Raton Canyon is a federally protected wilderness area, which all but guarantees the kind of peace and solitude your newly converted missile silo deserves. Plus, when the recycled air is making you nauseous, you can pop up for a lungful of the purest breeze in the state.
$1,450,000
Lago Zancudo Bunker:
Lago Zancudo, westmost side of Fort Zancudo.

Nestled among the sand dunes, enjoying year-round sunshine, the pacific gently breaking just a few strides away... If you can ignore the constant earthquake warnings and the threat of flooding, this is as close to paradise as a subterranean bunker is going to get.
$1,550,000
Chumash Bunker:
Chumash, beyond the north-west side of Barbareno Road.

I know what you're thinking. Who cares about sea views when you're fifty feet underground in a hermetically sealed nuke-proof bunker? Well just remember. It doesn't need to make any sense to add a fat premium to the resale value. This is how you climb the ladder.
$1,650,000
Grapeseed Bunker:
Grapeseed, past the west side of McKenzie Field airstrip. Mainly accessed via a dirt road from Grapeseed Main Street.

Amid all this talk of the death of small-town America, it's important to remember that somewhere like Grapeseed has an advantage over the big city: there's plenty of space for the one percent to build subterranean lairs in preparation for the apocalypse. Hey, the heartlands aren't going to rejuvenate themselves.
$1,750,000
Route 68 Bunker:
Grand Senora Desert, north of Route 68 Approach and west of Joshua Road.

On one side, you hear the bubbling stream of the Zancudo River taking its share of bloated corpses from the Alamo Sea to the coast; on the other, the distant sound of whooping and gunfire from nearby Harmony. And beneath your feet a sprawling nuclear fortress. Welcome to Eden.
$1,950,000
Grand Senora Oilfields Bunker:
Past a "dead-end" dirt road connected to Joshua Road.

If you're a budding survivalist looking for a decent simulation of a nuclear wasteland, you could do a lot worse than the Grand Senora Desert. This cozy property was originally built as an end-of-the-world shelter and general hangout for a cryptocurrency pioneer - and if that doesn't scream 'high build quality' what does?
$2,035,000
Grand Senora Desert Bunker:
Grand Senora Desert, past the west side of the Sandy Shores Airfield runway.

Due to high levels of unexplained radiation, the Grand Senora Desert is home to varieties of flora, fauna and underground bunker seen nowhere else on the planet. And this baby is triple-lined with tinfoil all the way round, so you're definitely safe.
$2,120,000
Smoke Tree Road Bunker:
Grand Senora Desert, next to Smoke Tree Road and Nowhere Road.

This discreet site in the Grand Senora Desert holds the record for the most unidentified bodies excavated during construction. And if nothing else, that means it's popular with all the right people.
$2,205,000
Thomson Scrapyard Bunker:
Grand Senora Desert, north-east side of Thomson Scrapyard.

Like any other phase of the property market, Armageddon is really all about location. On the one hand you want the perfect seclusion of the desert. On the other hand, you want to be able to stagger to a 24/7 without dragging your knuckles through too much fallout. Well, look no further: on both counts, this lovely prospect in Blaine County is all set for the mushroom cloud.
$2,290,000
Farmhouse Bunker:
Grand Senora Desert, south of Bolingbroke Penitentiary.

The Grand Senora ecosystem comes in three tiers: the wannabe hippies staging a made up fire festival; the roaming gangs of mutants who prey on them for sustenance and sport; and the paranoid software tycoon hoarding enough underground munitions to start World War 3. That's right, you're the top of the food chain.
$2,375,000
Hangars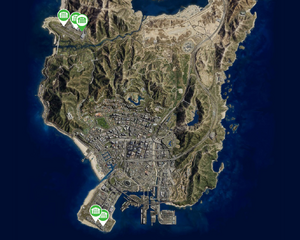 The following are Hangars that the player can purchase.
Locations
Hangars
Hangar
Location
Image
In-game description
Price
Fort Zancudo Hangar 3499
Fort Zancudo

Have you viewed too many lifeless, cookie-cutter properties? Are you looking for something with a bit more character? This wonderful property is chock full of history, from the residual nerve agents in the brickwork to the previous occupant's fingernails sunk lovingly into the concrete floor. Please note: this hangar provides the buyer with low level clearance to Fort Zancudo.
$2,650,000
Fort Zancudo Hangar A2
Fort Zancudo

When it comes to hiding in plain sight, it doesn't get much plainer than the largest military installation in the state. On the plus side, they won't ask if you won't tell, and if you need to do any advanced interrogation, you're welcome to borrow the bucket. Please note: this hangar provides the buyer with low level clearance to Fort Zancudo.
$3,250,000
Fort Zancudo Hangar 3497
Fort Zancudo

Right at the heart of one of the IAA's most exclusive and sought-after black sites, these industrial premises are perfect for the ambitious entrepreneur on the hunt for an address to impress. Just think of the wow-factor when you lead your clients past those lines of hooded detainees. Please note: this hangar provides the buyer with low level clearance to Fort Zancudo.
$2,085,000
LSIA Hangar A17
LSIA

More tons of contraband enter and leave San Andreas via LSIA than any other point in the state, so if you were looking for the high stakes table, you just found it. Time to pull up a chair.
$1,200,000
LSIA Hangar 1
LSIA

If you've ever flow out of LSIA, it will come as no surprise that most of the infrastructure has been auctioned off to career criminals. Beat the check-in lines, dodge the taxes, moon the cops: this is commercial flying as it should be.
$1,525,000
Facilities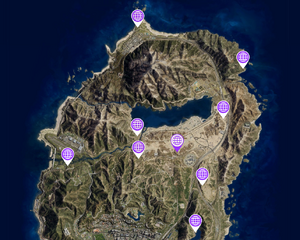 The following are the Facilities available to purchase.
Locations
Facilities
Facility
Location
Image
In-game description
Price
Paleto Bay

If you're the kind of mastermind who likes the calming sound of the ocean to be audible beneath the maniacal laughter echoing through the cavernous halls of your secret lair, then this is the beauty spot for you.
$1,250,000
Mount Gordo

Forget the scare stories; there are no ghosts, and no one does yoga here. The foothills of Mount Gordo are the perfect backwater spot for an off-the-books, nuke-proof hideaway.
$1,465,000
Sandy Shores

These days, Sandy Shores is an up and coming second home hotspot for the criminally deranged, and here's your chance to jump the waiting list. Act now: in this neighborhood an abandoned military installation won't be on the market for long.
$2,740,000
Zancudo River

This charming riverside spot is cold in the winter, baking hot in the summer, and has swarms of malarial mosquitoes all year round. You wanted secluded, well here it is.
$2,100,000
Grand Senora Desert

A really fascinating site with lots of history and character. No need to worry about the small print, just tell your lawyer to sign. We are legally required to give notice of documents suggesting this site was recently a nuclear testing facility. No steps have been taken to ensure its safety.
$2,525,000
Lago Zancudo

It might not occur to you to excavate a subterranean facility in marshland overlooked by the largest military base in the state. But now the idea's in your head, how can you resist?
$1,670,000
Route 68

When you're thinking of investing in a labyrinthine military-grade vault hundreds of feet below ground, the address is everything. Just off the iconic Route 68, surrounded by mountain peaks, this little number is just the country retreat you've been looking for.
$2,312,500
RON Alternates Wind Farm

You've always suspected the eco movement in San Andreas was a front for something, and now you know. The power from this wind farm has been redirected into your hot tub, and the turbines make an excellent deterrent to inquisitive police helicopters.
$1,855,000
Land Act Reservoir

The only thing edgier than owning a sprawling underground facility is owning one that could fill with water at any second. Just avoid target practice near the east wall, and you'll probably be fine.
$2,950,000
Nightclubs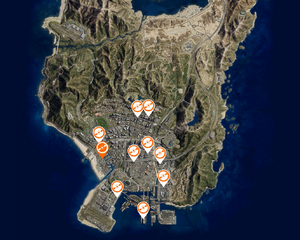 The following are the Nightclubs available to purchase.
Locations
Nightclubs
Nightclub
Location
Image
In-game description
Base Price
Del Perro

This charming 20's-style building in Del Perro has just enough residual class to offer a post-ironic thrill when you turn it into a throbbing techno dungeon.
$1,645,000
Vespucci Canals

There's only one thing needed to push the Vespucci Canals into being more European than Europe, and that's a wildly pretentious and brutally overpriced nightclub set amid the ruins of once-profitable commerce and industry.
$1,320,000
Strawberry

One of the little-known perks of setting up a night club in a disused paint factory is the presence of high residual levels of industrial solvent. Good atmosphere, happy patrons, all night. guaranteed.
$1,525,000
LSIA

Imagine you're an international businessperson looking for a world-class night out, but you'd rather not stray too far from your private jet just in case the FIB hears you're on American soil. There's only one way to cater to that vital demographic, and this location is it.
$1,135,000
Mission Row

A wide man once said that wealth is relative. And nothing will accentuate the astonishing wealth of your clientelle like stepping out for a cigarette and gazing at the highest concentration of vagrancy in the state.
$1,440,000
La Mesa

As well as being walking distance for the young professionals in Mirror Park, this is also the only location in town where the roar of the interstate doubles as the world's biggest sub-woofer.

$1,500,000
Cypress Flats

Cypress Flats is currently in that perfect sweet spot for a new club: it has barrels overflowing with post-industrial cool but very little housing, so there's nowhere for the hipsters to roost. This place is staying on the edge for years to come.
$1,370,000
West Vinewood

It's hard to find a suitably scuzzy location in West Vinewood. This place was actually in pristine condition until we paid some drifters to live in it for a couple months: now it has all the character it needs, and then some.
$1,700,000
Downtown Vinewood

Downtown Vinewood is the entertainment capital of Los Santos: Oriental Theater, Whirligig Theater, Doppler Cinema — and right in the heart of it. basking in all its abandoned commercial chic, there's a nightclub location with your name on it.
$1,670,000
Elysian Island

Forget homely blue-collar neighborhoods and picturesque abandoned factories. If you want a rel challenge, try gentrifying a dockside slum that's knee-deep in industrial discharge and dead fish. If you can bring the A-listers here, you can bring them anywhere.
$1,080,000
Arcades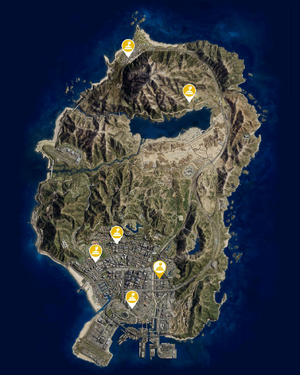 The following are the Arcades available to purchase.
Locations
Arcades
Name
Location
Image
In-game description
Base Price
Warehouse
Grove Street, Davis


Formerly: Auto Fix Factory

Don't let the economic turmoil of Davis put you off this one-of-a-kind property. The Auto Fix Factory once made great business here, before going under. And Warehouse lasted at least a week before it went bust. But you know what they say. It's not the business. It's the owner. And, after this one, you won't be making the same mistakes.
$2,135,000
Videogeddon
744 Popular Street, La Mesa


Formerly: Unnamed warehouse.

In the charming industrial district of La Mesa, where dreams of gentrification are few and far between, we present this bargain property. Before closing down, Videogeddon was a hive of heavy metal gamers who played for days at a time, only breaking to do another line. New carpets are recommended.
$1,875,000
Eight-Bit
Eclipse Boulevard, Vinewood


Formerly: Vinewood Records

As far as renovations go, the Eight-Bit has all the grit and grime needed to be the perfect hangout. This one-time record shop and three-time drug front couldn't feel trendier, Plus, the West Vinewood location guarantees a herd of cold brew drinking hipsters will swarm for retro gratification.
$2,530,000
Insert Coin
Rockford Hills


Formerly: Fruit of the Vine

We don't need to convince you of the charms of Rockford Hills, but the residents may need convinced by an arcade's charms. Luckily for you, the musty smell of the wine shop previously on this site adds a touch of class to the ambience.
$2,345,000
Wonderama
Grapeseed


Formerly: Grapeseed Supermarket

Back in the 80s, Wonderama was the greatest night out in Grapeseed. Ten-pin bowling, soft play, kids' parties and parties of kids running feral for days. You name it, they had it. But it just takes one health inspector and an infested ball pit and suddenly you're out of business. Bad luck for them. Good luck for you.
$1,565,000
Pixel Pete's
Paleto Bay


Formerly: Helmut's European Autos

Pixel Pete's Fun Time Arcade was a legendary dive, run by a hero who loved games so much three heart attacks couldn't convince him to take more breaks. Features hand painted details by Pete's own nephew. It's remarkable that we do not charge extra for this characterful addition. Buy now before we change our mind.
$1,235,000*
* Property is free for players who linked their Social Club account to their Twitch Prime account.
See Also
Community content is available under
CC-BY-SA
unless otherwise noted.