Maxwell Caughlin is a criminal residing in Liberty City in 2008.
Description
He is wanted by the Liberty City Police Department for gang related violence. He lives at Hollowback Street in South Bohan and can be killed by Niko Bellic. He drives an Emperor, and is affiliated with the Hustlers as he and his friend use character models of these gangs.
A duplicate mugshot[1] exists in the Police Computer with the name Maxwell Caddy. That name is not searchable, however the mugshot is displayed during the rapid cycling through the mugshots in the search function along with the Maxwell Caughlin mugshot.
Mission Appearances
Grand Theft Auto IV
LCPD Database Record
LIBERTY CITY POLICE DEPT.
PROTECTING LIBERTY CITY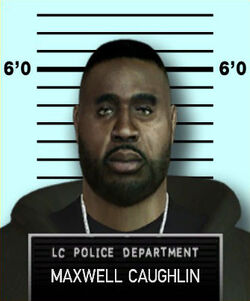 NAME
MAXWELL CAUGHLIN
HANGOUT
Hollowback Street, South Bohan
WANTED FOR
Gang Related Violence
Gallery
References