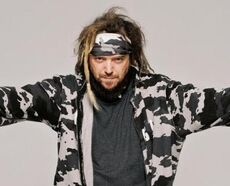 Max Cavalera (born as Massimiliano Antonio Cavalera on August 4, 1969 in Belo Horizonte, Minas Gerais, Brazil) is a Brazilian DJ for Liberty City Hardcore Radio Station in The Lost and Damned. Although Grand Theft Auto IV and The Lost and Damned are in the same time, Jimmy Gestapo is the DJ for IV's LCHC that plays hardcore punk, while the "later" TLAD rendition plays extreme metal.
Cavalera was the real-life lead singer of the band, Sepultura, who plays the featured thrash metal song "Dead Embryonic Cells" (which is also featured in the trailer for The Lost and Damned), and is currently the frontman of Soulfly and Cavalera Conspiracy. The opening to the song "Blood Fire War Hate", by Soulfly is also played at the begining of the The Lost and Damned's sequential LCHC playlist, as part of the 'Blood Fire War Hate Death Metal Show' introduction.
Unlike most DJs in from the GTA IV Era, little is known about Max, as he never speaks about himself. Instead, he soley focuses on the music, and his overall presentation reflects the station's new and heavier nature in both what he says and his delivery (implementing his skills as an extreme metal vocalist). 
Community content is available under
CC-BY-SA
unless otherwise noted.