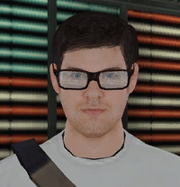 Matte Black is the name used by a male love-meet.net user in Grand Theft Auto IV. No matter how many times Niko Bellic contacts him, he will never date him. He is a stereotype of a young male from an artistic college, and it's implied that he's bicurious. An interesting thing to note is that Matte appears to be the brother of fellow Love-meet user The Nickmeister (he describes an annoying "dumb" brother with laughable machismo that calls him an "art-fag") although they're both 21 and don't resemble each other very much. Pedestrians with Matte's character model can sometimes be encountered, though they may be wearing a different coloured shirt.
Community content is available under
CC-BY-SA
unless otherwise noted.