Marty Boldenow is, in 2008, a criminal based in Liberty City.
Description
He is wanted by the LCPD for gang related violence. He is a member of the Skinheads. He has the word BUNX tattooed on his forehead which is likely an easter egg/reference to Lars Frederiksen of the American punk band Rancid. Lars Frederiksen has a tattoo on his forehead that says 'SKUNX', which is the shortened name of his crew 'Skins, Punx and Drunx', reinforcing this theory is the fact that Marty Boldenow dons a hairstyle and fashion choice similar to Lars Frederiksen in the early 2000's.
He can be killed by Niko Bellic. When encountered at his hangout behind Lennies Fireproof Door Co. on Mueri Street in Acter (although the Police Computer incorrectly lists his hangout to be in Westdyke), he is accompanied by a group of Yardies.
He uses a Rocket Launcher during his confrontation with Niko. However, he will drop the RPG and instead use an AK-47 when the player gets close enough.
Mission Appearances
Grand Theft Auto IV
LCPD Database Record
LIBERTY CITY POLICE DEPT.
PROTECTING LIBERTY CITY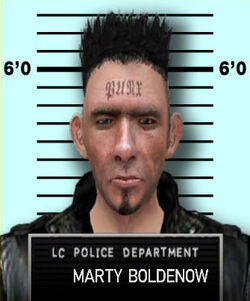 NAME
MARTY BOLDENOW
HANGOUT
Westdyke, Alderney
WANTED FOR
Gang Related Violence
Gallery