Mark Anthony Volpe is a character in the Grand Theft Auto series, mentioned in the LCPD Database in Grand Theft Auto IV.
Description
Mark Volpe is a caporegime for the Messina Family along with his brother, Fredo Volpe, the latter of whom has been a police informant since 1998, though many suspect Mark of being the rat. Mark was unaware of his brother's activities and had once sliced off a family enforcer's tongue for suspecting his brother of being a rat. Mark owns several sports betting rings in the boroughs of Liberty City, and is a dedicated mobster. By 2008 his status on the LCPD database is listed as "missing" however his ultimate status is unknown.
LCPD Database Record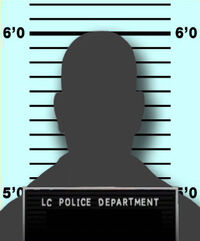 | | |
| --- | --- |
| Surname: | Volpe |
| First Name: | Mark Anthony |
| Age: | 45 |
| Place of Birth: | Dukes, Liberty City |
Affiliations:
Criminal Record:

1982 - Murder
1993 - Extortion
1994 - Manslaughter
1995 - Assault
1996 - Manslaughter
1998 - Promoting Gambling
2000 - Promoting Gambling
2005 - Manslaughter
Notes:

Suspected by fellow members of the Messina Crime Syndicate of being a rat when his brother, Fredo Volpe, is actually the police informant.
Suspected to be in charge of a sports betting ring that operates throughout the four Liberty City Boroughs; however, he only takes bets on rigged games.
Believed to have cut out the tongue of a Messina enforcer for suggesting that his brother was an informant.
Enough wiretap evidence to put him in prison for 12 life sentences.
Trivia
"Volpe" is Italian for fox.
The character's surname may have been inspired by Albert Volpe a crime boss played by actor Carmine Caridi in The Godfather Part III.
In real life the Volpe brothers were racketeers from Turtle Creek Valley, Pittsburgh who had ties to the Pittsburgh crime family during the Prohibition era.
It is possible that he and his brother are based on cousins Frank and Edward Lino who were both Capos in the Mafia, one of which (Frank Lino) turned informant against Bonnano boss Joe Massino in 2006.
On the LCPD Database it says missing on his profile so it is possible he was killed by Harvey Noto.
Community content is available under
CC-BY-SA
unless otherwise noted.