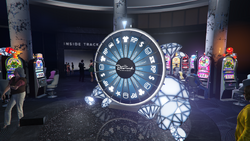 The
Lucky Wheel
is a type of gambling added with the
The Diamond Casino & Resort
update, released on July 23, 2019. It can be found in the main lobby of the
Diamond Casino & Resort
.
Description
The Lucky Wheel is the most straightforward gambling method available at the casino. The player simply needs to walk up to the wheel and spin it, and they are awarded whatever is marked on the spot it lands on.
The player does not need to pay in order to spin, but it can only be used once per real-life day and has a cooldown of 24 hours. Just like other types of gambling inside the casino, spinning the wheel is restricted in many countries.
Prizes
Unlike most gambling games, players can win an assortment of prizes instead of just chips. Each prize has a 5% chance of being gifted, as there are 20 spots on the wheel. These are:
2,500 RP
5,000 RP
7,500 RP
10,000 RP
15,000 RP
$20,000
$30,000
$40,000
$50,000
10,000 Chips
15,000 Chips
20,000 Chips
25,000 Chips
Clothing (any clothing piece from the casino store; 4 spots on the wheel)
Vehicle Discount (a limited-time 10% discount on a random vehicle from a selected website)
Mystery (a random selection of prizes ranging from money to vehicles)
Podium Vehicle (players may need to select the property where they want to store it in)
The podium vehicle can be sold, but its value is notably inferior compared to a purchased example. If the player has already received the weekly podium vehicle in a previous spin, the player will be rewarded 20,000 RP instead. The prize vehicle rotates after every Event Week.
Mystery Prize
If the wheel lands on the mystery prize, the player has a chance of being gifted one out of a large pool of items. This includes clothes, casino chips, RP, money, ammo, snacks, or armour. It also has a chance of refilling one of the player's MC Businesses, their Bunker or Warehouse, as well as a chance of giving the player a rare Special Cargo item. There are also over 130 vehicles that have a possibility of being gifted; these are:
All of these are purchasable from websites, except for the Lost Slamvan, which can only be won through the wheel, making it one of the rarest vehicles in the game.
Gallery
Prize Vehicles
Changes
Prior to The Diamond Casino Heist Update, PC players were able to spin the wheel once every 24 hours on both characters on an account but this was changed to match the console versions where the daily spin timer was shared between the two characters.
Community content is available under
CC-BY-SA
unless otherwise noted.