"Are you fuckin' kidding me? The manager of one of his waste depots was holding out on profits a couple a years back. Ray fed him to a dump truck. There was this point where the sound of his screams stopped and all you could hear was his bones crushin', then the pop of his skull goin'. I nearly lost my lunch."
―Luca Silvestri
Luca Silvestri is a character in the Grand Theft Auto series who appears as a minor character in Grand Theft Auto IV.
Background
Luca is a Soldier of the Pegorino Family led by James Pegorino. Luca is a close friend and also an associate to Johnny Barbosa and Joe DiLeo who are other associates of the gang. He is a waste collector working for Ray Boccino to collect the garbage bags filled with diamonds.
Events of GTA IV
Luca, along with the other members of his sub-crew (Joseph DiLeo and Johnny Barbosa), were introduced in the GTA IV mission Taking in the Trash in which Ray sends Niko to assist them in picking up the Diamonds that Johnny Klebitz left in two Algonquin trashbags in the TLAD mission Diamonds in the Rough (which took place at the same time as the TBOGT mission Frosting on the Cake). The foursome were ambushed by unidentified attackers (potentially Gay Tony associates), but escaped. After escaping, Silvestri along with the other members betrayed Boccino and Bellic by taking the money for themselves (mentioning that they were planning to go to Las Venturas; but Niko killed them and reclaimed the Diamonds for Ray.
LCPD Database record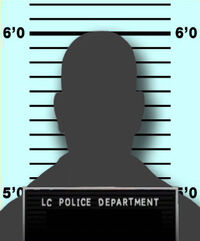 | | |
| --- | --- |
| Surname: | Silvestri |
| First Name: | Luca |
| Age: | 30 |
| Place of Birth: | Alderney City, Alderney |
Affiliations:
Criminal Record:

1993 - Hijacking
1995 - Armed Robbery
1997 - Manslaughter



Notes:

Alderney-based Italian-American hood.
Involved in small time criminal activities.
Believed to be trying to work his way up through the Pegorino crime family.
Works for Ray Boccino and often seen with Joe "Tuna" DiLeo and Johnny "Spaz" Barbosa.
Mission Appearances
GTA IV
Gallery
Community content is available under
CC-BY-SA
unless otherwise noted.