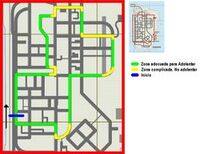 Low Rider Rumble is a street race in Grand Theft Auto: Liberty City Stories. It becomes available after completion of the mission Grease Sucho for Ma Cipriani. The street race starts by a phone call outside Don Kiddick's Sausage Factory in Trenton on Portland Island. For this race, the player needs a car. The cars the other racers use are uniquely-colored Hellenbach GTs (white, red, sky blue). The race is two laps long and the reward for 1st place is $1500.
Gallery
Video Walkthrough
Community content is available under
CC-BY-SA
unless otherwise noted.