Love of Money is the final mission in Grand Theft Auto Advance given to protagonist Mike by explosives and firearms expert 8-Ball from Pike Creek, Shoreside Vale, Liberty City.
Mission
Mike and 8-Ball are in Pike Creek and are ambushed by the Colombian Cartel and their new leader, who believes that Mike killed their former leader, Cisco. Mike manages to kill many Cartel members, eventually forcing them to retreat, although 8-Ball is injured, claiming to have a broken leg and burned his hands. Mike flees the scene, leaving the stricken 8-Ball to be arrested by the Liberty City Police Department. Mike manages to get his car re-sprayed at a Pay 'n' Spray and remembers his fallen friends, all of whom are at this point dead or in prison.
Reward
The reward for completing this mission is $20,000 and the unlocking of the next mission, Taking Revenge.
Gallery
Walkthrough
Video Walkthrough
GBA Version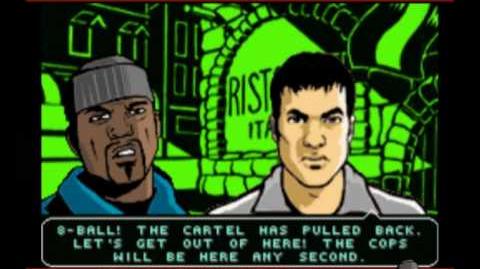 Trivia
Community content is available under
CC-BY-SA
unless otherwise noted.