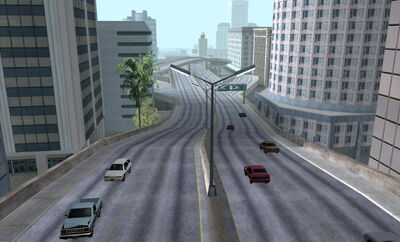 The Los Santos Freeway is a highway in Grand Theft Auto: San Andreas.
Description
The Los Santos Freeway is a major highway connecting Los Santos with Las Venturas and Red County. It is modeled after both Interstate 5 and Interstate 15. The freeway has four lanes with a wide median in Red County. But, in Los Santos it has predominantly a median with a concrete barrier, but at times it's more of a curb with street lamps in the middle of the freeway for illumination at night. In Downtown it meets the East Beach Freeway Extension, a short freeway serving the city's east side. Near the airport, for a short time, the median has two guard rails on each side keeping traffic to their own side, this is due to a tunnel upon which the freeway must encounter. The freeway ends briefly in Ocean Docks and becomes a four lane road through East Beach. The road turns into a freeway once again after passing through the East Beach neighborhood. When it nears Las Venturas at the Montgomery Intersection, it turns and heads west towards its starting point, while staying in Red County the second time around, which makes it a looped highway.
Direct access to the Los Santos Freeway is rather limited in Red County, with only two exits that both lead to Palomino Creek.
The highway has a total length of 5.5 miles (8.8 kilometers), making it the longest highway in San Andreas.
Traffic
Most of the traffic on the Los Santos Freeway, is within the city limits of Los Santos, and is primarily local traffic. In Red County, the traffic is more rural and long distance as Linerunners frequently use this stretch of the freeway along with other semi trucks.
Exits
This article or section needs to be cleaned up to meet the standards of the GTA Wiki.


Reconfigure table
Listed are destinations from exits along the Los Santos Freeway. The "northbound" route is the freeway going clockwise, the "southbound" route goes counter-clockwise. The exits are listed in clockwise order.
Exit #
Exits
Destinations
Remarks
1
Palomino Creek 1

North: Harry Gold Parkway

West: Julius Thruway West, Bone County, San Fierro

East: Julius Thruway East

Half-clover interchange
2
Palomino Creek 2
East: Red County, Los Santos
Three-way interchange
3
Los Santos - Red County
Los Santos - Red County West: Vinewood

Three-way interchange

4
East Beach

West: Vinewood, Mullholland Drive

East: El Corona

Four-way interchange
5
Playa del Seville 1
East: East Beach Freeway Extension

Two-way intersection

Southbound exit only

6
Playa del Seville 2
East: Los Santos International Airport
Four-way intersection
7
Ocean Docks 1

West: Verona Beach

East: Los Santos International Airport

Four way intersection
8
Ocean Docks 2
East: Ocean Docks

Four-way intersection

Southbound exit only

9
Ocean Docks 3
West: Ocean Docks

Two way intersection

Northbound exit only

10
Ocean Docks 4
East: Ocean Docks

Two way intersection

11
Verdant Bluffs
West: Ocean Docks
Four-way intersection with overpass
12
Los Santos International Airport
North: Playa del Seville

A unique interchange with ramps on the southbound side and a road that forms a wye on the northbound side

13
East Beach Freeway Extension
West: Playa del Seville
Semi-direction T-interchange
14
Mullholland Intersection
West: East Beach
Four-stack interchange
15
Vinewood

West: Los Santos

East: Red County, Palomino Creek

Half-trumpet interchange

Northbound exit, southbound entrance

16
Red County

West: Palomino Creek

East: Los Santos

Half-clover interchange

Take to start the northbound portion all over again or continue northbound to exit 17

17
Julius Thruway
South: Palomino Creek
Four-way intersection
Gallery
Community content is available under
CC-BY-SA
unless otherwise noted.