m

(38 intermediate revisions by one other user not shown)
Line 1:
Line 1:
 
+
−

[[File:Neighborhood-little-seoul.jpg|thumb|Postcard for Little Seoul, as seen in the ''GTAV'' digital manual.]]

+

[[File:Neighborhood-little-seoul.jpg|thumb|Postcard for Little Seoul, as seen in the digital manual.]]

 
 
 

{{Quote|A bustling Korean enclave packed with cafes, convenience stores, bars and mysterious businesses open 24/7 that you need to knock on a door to get into. Little Seoul is an up-and-coming neighborhood for foodies, students getting wasted on soju and gang members.|''GTAV'' digital manual}}

 

{{Quote|A bustling Korean enclave packed with cafes, convenience stores, bars and mysterious businesses open 24/7 that you need to knock on a door to get into. Little Seoul is an up-and-coming neighborhood for foodies, students getting wasted on soju and gang members.|''GTAV'' digital manual}}

 
 
−

'''Little Seoul''' is a neighborhood of [[Los Santos (HD Universe)|Los Santos]], [[San Andreas (HD Universe)|San Andreas]] in ''[[Grand Theft Auto V]]''. The neighborhood is bordered by [[Rockford Hills]] to the north, [[Downtown Los Santos (HD Universe)|Downtown]] and [[South Los Santos]] to the east, [[Vespucci]] to the west and [[La Puerta]] to the south.

+

'''Little Seoul''' is a neighborhood [[Los Santos (HD Universe)|Los Santos]], [[San Andreas (HD Universe)|San Andreas]] in ''[[Grand Theft Auto V]]''. The neighborhood is bordered by [[Rockford Hills]] to the north, [[Downtown Los Santos (HD Universe)|Downtown]] and [[]] to the east, [[Vespucci]] to the west and [[La Puerta]] to the south.

 
 
 

==Character==

 

==Character==

−

[[File:LittleSeoul-Satellite-GTAV.png|thumb|170px|Satellite view of Little Seoul.]]Little Seoul is a [[wp:South_Korea|Korean]]-influenced neighborhood, even though the [[Los Santos Triads]] have some territory. Asian companies such as [[Kayton]] or [[WIWANG]] are headquartered here, and there are also many smaller Korean businesses and shops present, ranging from grocery stores to Internet cafés to even a [[24-7]] shop with a Korean sign. It is presumably a middle class neighborhood, with an ethnically diverse population. Several stores have neon signage written in Korean, making Little Seoul have a distinct atmosphere reminiscent of the real [[wp:Seoul|Seoul]] in nighttime.

+

[[File:LittleSeoul-Satellite-GTAV.png|thumb|170px|Satellite view of Little Seoul.]]Little Seoul is a [[]]-influenced neighborhood, even though the [[Los Santos Triads]] have some territory. Asian companies such as [[Kayton]] or [[WIWANG]] are headquartered here, and there are also many smaller Korean businesses and shops present, ranging from grocery stores to Internet cafés to even a [[24-7]] with a sign written in Korean .

 
+
 
+

It is a densely populated, relatively working-class neighbourhood, with an ethnically diverse, multicultural population. Several businesses have neon signage written in Korean characters, making Little Seoul have a distinct atmosphere reminiscent of the real South Korean capital of [[wp:Seoul|Seoul]] at nighttime.

 
 
 

==Transport==

 

==Transport==

Line 12:
Line 15:
 
 
 

==Influence==

 

==Influence==

−

Little Seoul is based on the [[wp:Koreatown, Los Angeles|Koreatown]] district of [[wp:Los Angeles|Los Angeles]] however many of the buildings are based on those in the [[wp:Wilshire, Los Angeles|Wilshire]] district.

+

Little Seoul is based on the [[wp:Koreatown, Los Angeles|Koreatown]] district of [[wp:Los Angeles|Los Angeles]] however many of the buildings are based on those in the [[wp:Wilshire, Los Angeles|Wilshire]] district.

 
 
−

==Gang control==

+

==Gang ==

−

*The [[Korean Mob (GTA V)|Korean Mob]] and the [[China|Chinese]] [[Los Santos Triads]] can be found here. They tend to congregate at an apartment complex across the street from the car wash/convenience store, on [[Ginger Street]].

+

The [[|Korean Mob]] and the [[Los Santos Triads]] can be found here. They tend to congregate at an apartment complex across the street from the car wash/convenience store, on [[Ginger Street]].

 
 
 

==Places of Interest==

 

==Places of Interest==

 
+

*[[0325 South Rockford Drive]]

 

*[[2057 Vespucci Boulevard]]

 

*[[2057 Vespucci Boulevard]]

⚫
 
 

*[[Betsy O'Neal Pavilion]] ''(Dorothy Chandler Pavilion)''

 

*[[Betsy O'Neal Pavilion]] ''(Dorothy Chandler Pavilion)''

⚫
 
 

*[[Celltowa Building]] ''(Beaudry Building)''

 

*[[Celltowa Building]] ''(Beaudry Building)''

 
+

*[[Decker Park]]

 

*[[Dream Tower]] ''(Wilshire Christian Manor)''

 

*[[Dream Tower]] ''(Wilshire Christian Manor)''

⚫
 
 

*[[Kayton]] Bank Building/[[Korean Plaza]] ''(Koreatown Plaza)''

 

*[[Kayton]] Bank Building/[[Korean Plaza]] ''(Koreatown Plaza)''

 

*[[Kayton Towers]] ''(Central Plaza)''

 

*[[Kayton Towers]] ''(Central Plaza)''

 

*[[Korean Pavilion]] ''(Korean Pavilion & Gardens)''

 

*[[Korean Pavilion]] ''(Korean Pavilion & Gardens)''

 

*[[Little Seoul Church]] ''(Wilshire Christian Church)''

 

*[[Little Seoul Church]] ''(Wilshire Christian Church)''

−

*[[Lombank Building]] ''(Wilshire Colonnade)''

+

*[[ ]] ''( )''

 
+

*Lombank Offices ''(Wilshire Colonnade)''

 

*Sunshine Apartments ''(The Abbey Building)''

 

*Sunshine Apartments ''(The Abbey Building)''

−

*[[Total Bankers]] Building ''(Equitable Life Building)''

+

*[[ ]] ''( )''

−

*[[WIWANG Tower]] ''(5900 Wilshire & Aon Center)''

 
 

*[[Valdez Theater]] ''(Wiltern Theatre)''

 

*[[Valdez Theater]] ''(Wiltern Theatre)''

−

*[[Weazel News Building]]

+

*[[Weazel News Building]]

 
 
 

==Businesses==

 

==Businesses==

 

*[[24/7]]

 

*[[24/7]]

 

*[[Ammu-Nation]]

 

*[[Ammu-Nation]]

 
⚫
 

*[[Bean Machine]]

 

*[[Bean Machine]]

−

*Big Dan Vision Optometry

+

*Big Dan Vision Optometry

 
+

*[[Blick]]

 

*[[BSC Machine Maintenance]]

 

*[[BSC Machine Maintenance]]

 
⚫
 

*[[Cherry Popper Ice Cream Company]]

 

*[[Cherry Popper Ice Cream Company]]

 

*[[Digital Den]]

 

*[[Digital Den]]

Line 54:
Line 59:
 

*[[Limited LTD Service]]

 

*[[Limited LTD Service]]

 

*[[Little Seoul Strip Mall]]

 

*[[Little Seoul Strip Mall]]

 
+

*[[Lombank]]

 
⚫
 

*[[Lucky Plucker]]

 

*[[Lucky Plucker]]

−

*Pirate Music

+

*Pirate Music

−

*[[S. Ho Korean Noodle House]] (Guelaguetza Mexican Restaurant)

+

*[[S. Ho Korean Noodle House]] (Guelaguetza Mexican Restaurant)

 

*[[Save-A-Cent]]

 

*[[Save-A-Cent]]

 

*[[Sneaky Footwear]]

 

*[[Sneaky Footwear]]

−

*[[Snr. Buns]] (Wilshire International Food Court)

+

*[[Snr. Buns]] (Wilshire International Food Court)

 

*[[Taco Bomb]]

 

*[[Taco Bomb]]

−

*Thor Toys

+

*Thor Toys

 

*[[TW@]]

 

*[[TW@]]

 

*[[Wan Ka Internet Cafe]]

 

*[[Wan Ka Internet Cafe]]

−

*[[Weazel News]] station (LAPD Olympic Station)

 
 

*[[Yogarishima]]

 

*[[Yogarishima]]

 
 
 

==Roads and Streets==

 

==Roads and Streets==

 

*[[Adam's Apple Boulevard]]

 

*[[Adam's Apple Boulevard]]

−

*[[Calais Ave]]nue

+

*[[Calais ]]

 

*[[Decker Street]]

 

*[[Decker Street]]

 

*[[Eastbourne Way]]

 

*[[Eastbourne Way]]

Line 76:
Line 82:
 

*[[Lindsay Circus]]

 

*[[Lindsay Circus]]

 

*[[Palomino Avenue]]

 

*[[Palomino Avenue]]

−

*[[Peaceful Street]]

 
 

*[[San Andreas Avenue]]

 

*[[San Andreas Avenue]]

 

*[[South Rockford Drive]]

 

*[[South Rockford Drive]]

 

*[[Vespucci Boulevard]]

 

*[[Vespucci Boulevard]]

−
 
−

==Gallery==

 
−

<gallery>

 
−

0_0 (11).jpg|[[Bean Machine]] restaurant.

 
−

0_0 (12).jpg|[[Digital Den]] and various electronic businesses.

 
−

0_0 (13).jpg|[[Arirang Plaza]]

 
−

Palomino_Avenue.jpg|[[Palomino Avenue]]

 
−

0_0 (15).jpg|[[Ginger Street]] mall

 
−

0_0 (16).jpg|1068 Ginger Street known for frequent gang activity.

 
−

Kayton.jpg|[[Kayton]] Banking Group office

 
−

Ginger st. gas station.jpg|[[Limited Service|LTD gas station]]

 
−

LittleSeoulBuilding-GTAV.jpg|[[Total Bankers|Total Bankers Skyscraper]] at night.

 
−

</gallery>

 
 
 
 

==Trivia==

 

==Trivia==

 
+

*In real life, the name, "Little Seoul", is referred to as "[[wp:Little Seoul|Korean District]]", a place in [[wp:Garden Grove, California|Garden Grove,]] [[wp:Orange County, California|Orange County, California]].

−

*A sign showing the direction of Little Seoul can be seen in the [[GTA V]] preview trailer.

 
−

*In real-life, [[wp:Seoul|Seoul]] is the capital city of [[wp:South Korea|South Korea]].

 
−

*The name 'Arirang Plaza' could have been inspired by the Arirang Mass Gymnastics Display that takes place every year in [[wp:Pyongyang|Pyongyang]], [[wp:North Korea|North Korea.]]

 
 
 
 

==Navigation==

 

==Navigation==

−

{{Los Santos neighborhoods (GTA V)}}

+

{{Los Santos neighborhoods}}

 
+

[[pl:Mały Seul]]

−
 
⚫
 
 

[[es:Little Seoul]]

 

[[es:Little Seoul]]

 
+

[[ru:Маленький Сеул]]

 
⚫
 
+

[[pt:Little Seoul]]

 
+

[[uk:Маленький Сеул]]

 

[[Category:Locations in GTA V]]

 

[[Category:Locations in GTA V]]

 

[[Category:Locations]]

 

[[Category:Locations]]

−

[[Category:Areas]]

+

[[Category:]]

−

[[Category:Areas in Los Santos (GTA V)]]

+

[[Category: in GTA V]]
---
Revision as of 19:56, 15 August 2019
"A bustling Korean enclave packed with cafes, convenience stores, bars and mysterious businesses open 24/7 that you need to knock on a door to get into. Little Seoul is an up-and-coming neighborhood for foodies, students getting wasted on soju and gang members."
— GTAV digital manual

Little Seoul (Korean: 리틀 서울) is a neighborhood in Los Santos, San Andreas in Grand Theft Auto V. The neighborhood is bordered by Rockford Hills to the north, Downtown and Strawberry to the east, Vespucci to the west and La Puerta to the south.
Character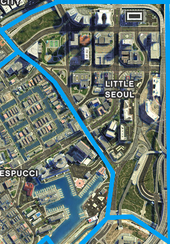 Little Seoul is a South Korean-influenced neighborhood, even though the Los Santos Triads have some territory in the area. Asian companies such as Kayton or WIWANG are headquartered here, and there are also many smaller Korean businesses and shops present, ranging from grocery stores to Internet cafés to even a branch of 24-7 with a sign written in Hangul (Korean alphabet).
It is a densely populated, relatively working-class neighbourhood, with an ethnically diverse, multicultural population. Several businesses have neon signage written in Korean characters, making Little Seoul have a distinct atmosphere reminiscent of the real South Korean capital of Seoul at nighttime.
Transport
Influence
Little Seoul is based on the Koreatown district of Los Angeles, however, many of the buildings are based on those in the Wilshire district.
Gang Control
The Korean Mob and the Los Santos Triads can be found here. They tend to congregate at an apartment complex across the street from the car wash/convenience store, on Ginger Street.
Places of Interest
Businesses
Roads and Streets
Trivia
Community content is available under
CC-BY-SA
unless otherwise noted.