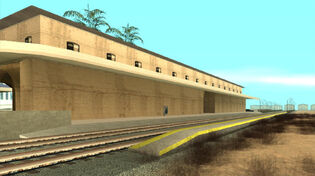 Linden Station is a railway station in Grand Theft Auto: San Andreas.
Description
One of two Brown Streak Railroad stations serving Las Venturas, San Andreas, Linden station is located in Linden Side in the east of the city. The station features two narrow platforms, though only one is covered. The station buildings are identical to those at Yellow Bell Station, the other station in Las Venturas, though the buildings at this station lack the cast iron pillars that the Yellow Bell buildings have.
Community content is available under
CC-BY-SA
unless otherwise noted.