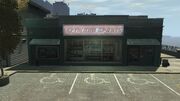 Leftwood Sports
is a sports store in
Grand Theft Auto IV
and
its episodes
.
Located on Beaverhead Avenue in Leftwood, the store sells mostly products from manufacturers such as Crevis, ProLaps and Backside Skateboards. It is located right next to a Fanny Crab's restaurant. Like most of the stores in the game, Leftwood Sports is inaccessible and has no interior.
Community content is available under
CC-BY-SA
unless otherwise noted.