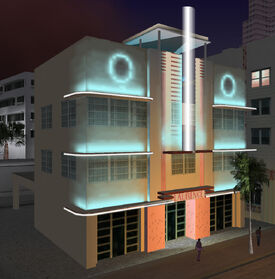 The Laurence Hotel, also known simply as the Laurence, is a hotel in Grand Theft Auto: Vice City along Ocean Drive, in Ocean Beach, Vice City. The Laurence bears a striking resemblance to the real-life McAlpin Hotel in Miami Beach, down to the facade design and rooftop canopy. The hotel is otherwise unremarkable, being inaccessible to the player. 
The hotel is unnamed in Grand Theft Auto: Vice City Stories.
Community content is available under
CC-BY-SA
unless otherwise noted.