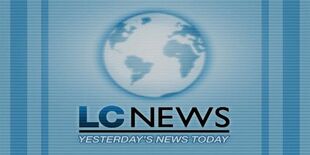 Liberty City News (LCN), also referred to as Liberty News, is a broadcaster featured in Grand Theft Auto III and Grand Theft Auto: Liberty City Stories. The broadcaster is based in Liberty City and provides radio and television news bulletins.
Description
The program talks about the most relevant news from Liberty City. Their broadcasts can be heard on the radio after the completion of certain missions. The news segments typically feature stories relating to the actions that Toni Cipriani has performed in the preceding mission, as well as some other "miscellaneous" stories. These bulletins play only once, but will repeat if the player gets wasted or leaves the vehicle when driving. Strangely, the news bulletins can also be heard in law enforcement vehicles.
The reporter is voiced by Sharon Washington, who also voiced WCTR newscaster Lianne Forget in Grand Theft Auto: San Andreas. As the LCN reporter is never named, we can only assume they may be the same character. LCN shares the same slogan as the Liberty Tree newspaper: "Yesterday's News Today".
Gallery
See Also
Community content is available under
CC-BY-SA
unless otherwise noted.