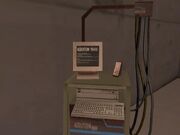 Kruton 9000 is a computer that can be found in car mechanic garages in four GTA games.
Description
The computer makes the first appearance in Grand Theft Auto III in Joey's Garage but is only visible during the mission cutscenes. In Grand Theft Auto: Vice City, the computer can be founded inside Sunshine Autos Import Garage. In Grand Theft Auto: San Andreas, the computer can founded inside Michelle Cannes' garage. The computer is also can be found inside the TransFender garage interior outside of the player's view, the third one can be seen inside Wheel Arch Angels. In Grand Theft Auto: Liberty City Stories, the computer can be found in Capital Autos building on a desk, though it is normally inaccessible to the player.
Gallery
Trivia
Community content is available under
CC-BY-SA
unless otherwise noted.