Kaufman Cabs
is a
taxi
firm appearing in
Grand Theft Auto: Vice City
and
Grand Theft Auto: Vice City Stories
.
Description
It is located in Little Haiti, Vice City. The business operates a fleet of Kaufman Cab taxis, and employs long-serving employee Doris as a dispatcher and Ted as a taxi driver. Kaufman Cabs' main rivals are Vice City Cabs, who are a bigger firm with more taxis.
In GTA Vice City, the business can be bought by Tommy Vercetti for $40,000 ($20,000 in the mobile version). After completing the three missions for Kaufman Cabs, the asset will earn a maximum $5,000 between pick-ups. In GTA Vice City Stories, however, Kaufman Cabs is closed and doesn't have a sign just like other assets in Vice City.
Influence
The firm takes its name from the late actor Andy Kaufman, who played a taxi mechanic in the Taxi TV series. Also, the depot of Kaufman Cabs has the basic layout of the Sunshine Cab Company from the same TV series.
Known Employees
Tommy Vercetti - current owner
Doris - former owner, dispatcher
Ted - cab driver
Rivals
Asset missions
Gallery
Purchase cutscene
Trivia
Sometimes, when driving a Kaufman's cab, the player hears Doris on the dispatcher giving orders to Tommy (even though there is no marker nor a side mission). It is also possible to hear her arguing with a cab driver, possibly Ted.
The song that can be heard playing in the background during the Kaufman Cabs purchase cutscene is "Working for the Weekend" by Loverboy. It is also featured on the in-game radio station V-Rock.
There are arcade machines inside the firm like the Pogo the Monkey game however, they are not playable.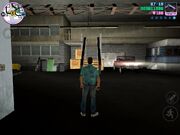 Community content is available under
CC-BY-SA
unless otherwise noted.