Raise a Floppa - The Loop
Play Sound
Karin (Japanese: カリン) (pronounced 'kah·rin') is a Japanese automotive company in the HD Universe of the Grand Theft Auto series.
Overview
The company is most likely based on Toyota since most Karin cars are inspired by Toyota models, although their logo appears to be based on the Lexus logo (similar to how the GTA equivalent of Lexus, Emperor, features a logo that resembles that of Toyota). The Sultan, Sultan RS and Sultan Classic take inspiration from Subaru models, while the Kuruma is primarily based on a Mitsubishi, and the Intruder primarily based on an Infiniti model.
Vehicles
Gallery
Divisions
Karin Performance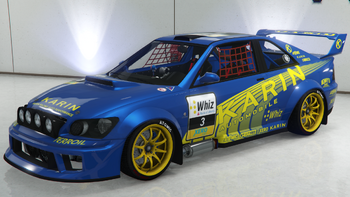 Karin Performance, Karin Racing Auto Performance are a racing division of Karin. They are responsible for the livery under the same name which can be applied to the Sultan RS and the Sultan Classic in GTA Online. The livery is based on the Subaru Impreza WRX World Rally Team skin, suggesting the division is based on the Subaru World Rally Team.
Sponsoring
The rally team appears to have many companies sponsoring them as seen on their livery, including:
Trivia
"Karin" is a Japanese word for Red Sandalwood.
Karin having vehicles with Subaru designs despite being based on Toyota makes sense in that, as of today, Toyota owns a large portion of share of Fuji Heavy Industries (Subaru's parent company).
Karin is pronounced as "Kareen" by a Karin sponsor on Fame or Shame, but it is pronounced as "Karen" during the advertisement for the Dilettante featured in GTA IV.

The name might also be a reference to Toyota's Carina series.

Karin Racing Auto Performance (whose initials would be KRAP) may possibly be a reference to Toyota Racing Development and the similarity of their initials (TRD) to the word "turd."