For the other Jimmy in GTA IV see Jimmy Pegorino.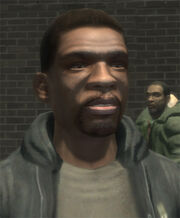 Jimmy is an African-American criminal in Liberty City. Jimmy took a cash-loan from the Faustin Mafia Family, (possibly from Vlad Glebov), and is expected to pay his debts. Niko Bellic is sent to steal Jimmy's car and take it to a lockup owned by Vlad. Jimmy is seen with another African-American associate.
Triva
Jimmy and his associate are probably M.O.B members.
Vlad is happier if Jimmy is NOT killed, as he can tense up Jimmy further.
Mission Appearances
GTA IV
Community content is available under
CC-BY-SA
unless otherwise noted.