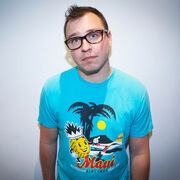 James Curd is an electronic musician known for his part in his band Greenskeepers.
As a chill wave/indie rock artist, he is known for his work on numerous original tracks alongside remixes for films, TV shows and video games.
James is responsible for the creation of numerous tracks in the GTA series. His band's song "Vagabond" was featured on GTA IV's radio station Radio Broker. In GTA V, he remixed Favored Nation's "The Set Up" for the end credits of the game. In GTA Online, he created the original soundtrack for GTA Online: Further Adventures in Finance and Felony's content update, writing the songs "Who Called Popo?", "Bespoke Broke", "Red Square", "Psychopath", and "Get on the Move". He also created the original soundtrack for the Deadline Adversary Mode added in the GTA Online: Bikers update, including the tracks "Jaguar", "Horse Rap", "Gaylord", "Eyes", "Driving", and "Buffalo".