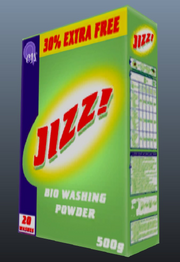 CJS JIZZ! is a laundry detergent in Grand Theft Auto IV. It can be seen in any accessible Laundromat. Jizz is a slang name for semen, the packaging is based on the one used by the Ariel detergent and the logo is similar to those of other cleaning products; Scotch-Brite, Persil, and Fairy.
See Also
Fud, another brand of laundry detergent in GTA IV.
Community content is available under
CC-BY-SA
unless otherwise noted.