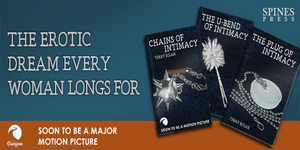 "Imagine if feminism never happened. Imagine a woman treated like a doormat covered with DNA. Imagine sex where she has to go to the hospital."
―Website Description
Intimacy is an erotic three-book series advertised in Grand Theft Auto V written by Terry Bolan. The books are advertised on the in-game website www.chainsofintimacy.com
Books
Chains Of Intimacy
In the first book, Jane Vixen is a young, innocent, religous woman who works at a hobby shop when charming millionaire Lesant Diangelo enters the store to buy supplies for a fleet of remote control devices he is building. Seeing she is intrigued, he offers to show his studio workshop to her after work. On the ride in his supple sports car, he talks all about his work feeding poor crippled children around the globe.
When he shows her his workshop she is aghast. He has hooked dildos up to a reciprocating saw, a remote control helicopter, ceiling fan, jackhammer, plunger, toy train and a tank. Plus, there are areas for whips, chains, knives, golden showers, and scat play. Then things get hot and rapey. At the end of 300 pages of depravity, debauchery and lavish gifts charged to a Fleeca bank card, Jane breaks up with Lesant and moves back in with her parents.
The Plug Of Intimacy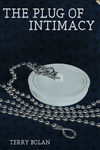 The second book take place a year after the first. Jane Vixen is shocked when her mom brings home Diangelo from a society luncheon he was speaking at. Things quickly spiral into passion as Vixen and her mother become the submissive sex slaves of Diangelo.
The U-Bend Of Intimacy

The third book takes things a step further, as Diangelo uses a toilet snake inside Vixen and gives her enemas with drain cleaner until her asshole prolapses.
Reception
The series has been well-received, with The Liberty Tree saying "Uses every sexual cliche in the book. It's great!". The series is also getting a film adaptation produced by Canyon Entertainment, although the player is unable to view it.
Influence
The book series is a parody of the Fifty Shades trilogy, which are Fifty Shades of Grey, Fifty Shades Darker and Fifty Shades Freed. The parody is lamp shaded by its incoming film adaptation by the time of the game.
Gallery
Trivia
Community content is available under
CC-BY-SA
unless otherwise noted.