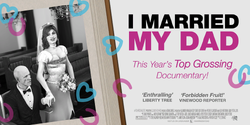 I Married my Dad is a documentary film produced by Richards Majestic featured in Grand Theft Auto V.
Description
According to a billboard, it is 2013's highest grossing documentary. The film appears to be critically acclaimed, with the Liberty Tree calling it "enthralling", while the Vinewood Reporter refers to it as "[a] forbidden fruit". Judging by the title, it appears to be about incest.
Clothing
In the Freemode Events Update for Grand Theft Auto Online, an I My Married My Dad T-Shirt was available to the players who logged on GTA Online during September 19th, 2015[1].
References
Community content is available under
CC-BY-SA
unless otherwise noted.