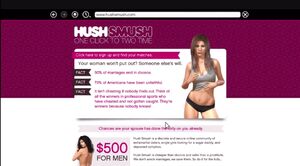 Hush Smush is a dating site in Grand Theft Auto V accessible via their website hushsmush.com. It is an online dating website where one can meet various kinds of women, from cougars to amateurs. The membership costs $500 for men and is free for women. It is likely based on the Ashley Madison website, where people can discreetly hire mistresses online. Unfortunately, the player is unable to use this website, so spending money on this is just $500 down the drain.
The player will be able to find a user on this site who is believed to be Amanda De Santa, due to both of them having identical situations: husband ignoring and sitting by the pool all day, likes yoga, acts like someone 20 years younger.
As of late February 2019, the URL www.hushsmush.com does no longer work in GTA Online and furthermore is not able to be found by clicking "random".
Gallery