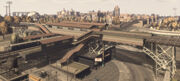 Huntington Street is a subway stop on the Liberty City Subway system in GTA IV, located at the intersection of Charleston Avenue and Huntington Street in the Cerveza Heights neighborhood of Dukes.
Description
Huntington Street is an elevated, dual-level station, both with two tracks and two side platforms. Unlike Frankfort High, both portions of the station are elevated and there is a direct transfer between levels (similar to the BMT Broadway Junction Station of the New York City Subway). Trains to Lynch Street and Algonquin (via the Algonquin Bridge) stop at the lower level, while trains to Francis International Airport and Broker stop on the upper level. The 3/8 Broker Line stops at both levels of the station. The station is the final stop on the 3/8 Broker Line; in Algonquin; the line becomes known as the A/J Algonquin Outer Line.
Community content is available under
CC-BY-SA
unless otherwise noted.