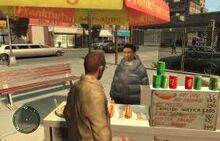 Hotdogs are a type of food that the player can eat to restore their health.
In GTA Vice City, Shaft Hot Dogs is one of the restaurants within North Point Mall's food court. Hotdog stands are introduced in GTA San Andreas in different brands or even mobile stands and are found all over San Andreas. They are also in GTA IV and its episodes and can be found all throughout Liberty City. Hotdogs restore one's health back to full. Hotdogs can be found in green dumpsters in Grand Theft Auto: Chinatown Wars, however only fresh ones can be eaten, while moldy ones cannot be utilized by the player.
Hotdog stands can be found throughout GTA V, but unfortunately, they cannot be used.
Brands
GTA Vice City
GTA San Andreas
GTA IV
GTA V
Vehicles
There are mobile stands for hotdogs, these vehicles are :
Community content is available under
CC-BY-SA
unless otherwise noted.