"Fight in the cemetery of Hill Valley for survival. The winner gets a free burial place."
―Description
Hill Valley Cemetery is a Rockstar Verified Deathmatch in Grand Theft Auto Online.
Description
The deathmatch is based in the Hill Valley Church Cemetery in Pacific Bluffs, it features a vary of weapons, props and vehicles.
Players fight around the cemetery burials, making burial plaques and graves perfect for cover from heavy gunfire.
Weapons such as the Minigun, SMG and Assault Shotgun are among the heaviest weapons available, whilst the Sniper Rifle, Grenades and Carbine Rifles are rarer to find. The minigun can be found on the small island in the middle of the pond, located behind a park bench next to a burial spot.
Many vehicles are available, including, Romero Hearse, Bati 801, Zion, Dilettante, Patriot, Ambulance, BMX, Fieldmaster, Camper and Minivan. Most of the vehicles can be found in the car park at the entrance, and some can be found in the main reception car park at the western side of the cemetery. A BMX can be found on the hill behind the cemetery, north of the map.
Tip
Use burials as defense, these burial plaques are perfect for cover, and they are found all over the cemetery, making it easy to just 'jump' from one to the other. However, constantly firing at the plaques will cause them to break, so when it comes to the minigun, it is best for the player to hide behind much stronger infrastructures like the main church walls.
Map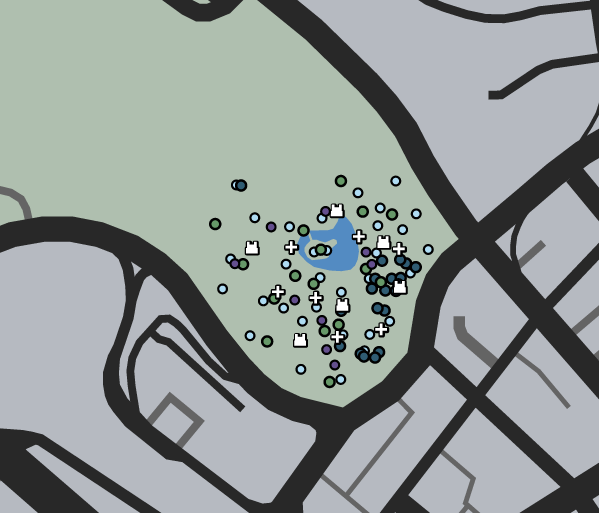 Trivia
Community content is available under
CC-BY-SA
unless otherwise noted.