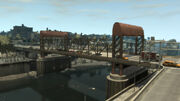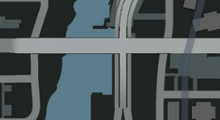 The Hickey Bridge is a small bridge in Liberty City in Grand Theft Auto IV connecting Varsity Heights in Algonquin with Leftwood in Alderney. Hickey Bridge is Liberty City's second shortest island crossing; second to Leaper's Bridge.
The Bridge is a continuation of Topaz Street in Algonquin and can also be accessed from its very own exit ramps from the Union Drive West. At the Alderney end, the bridge leads straight into the Plumbers Skyway.
The bridge design appears to be based on the Roosevelt Island Bridge, a vertical lift bridge, however its position within the West River and serving as a connection between Algonquin and Alderney is similar to the position of the real-world George Washington Bridge situated along the Hudson River, between New York and New Jersey.
On the Algonquin side of the bridge, two Flying Rats can be found. One beneath the bridge which can be shot by boat, and one on the right side of the lane traveling towards Algonquin, it can be found before the traffic lights.
Occasionally, an Annihilator spawns flying over the bridge heading south.
Gallery
Trivia
Its name could be a reference to Thomas Hickey, an Irish soldier in the Continental Army during the American Revolution that attempted to assassinate George Washington (the namesake of the real-life George Washington Bridge, which is one of the influences of Hickey Bridge) in 1776 (for another similar naming pattern, see Booth Tunnel).
Community content is available under
CC-BY-SA
unless otherwise noted.