Heli Hell is a race in Grand Theft Auto: San Andreas.
Description
In this race, Carl Johnson must pilot a Hunter helicopter through a series of checkpoints, starting from a helipad near the Los Santos International Airport. This race can be started by entering the red marker behind a hangar in the Las Venturas Airport, only after the player has purchased the Wang Cars showroom.
The prize for this race, and for all other races in the game is $10,000.
This race is actually an aerial obstacle course, where Carl has to pilot the Hunter through various coronas, with some being at street level, and a few feet away from power lines, as well as in narrow streets where the blades have only a few feet of space between buildings. Crashes are rampant to occur here, which is why the obstacle course is aptly named "Heli Hell."
You can start the mission and fly the Hunter to the old airport in Verdant Meadows and, if you already own the property, store it in the hangar. After leaving the Helicopter, a timer will count down and after hitting zero you will be brought to Las Venturas Airport again. However, the Hunter still remains in the hangar.
Map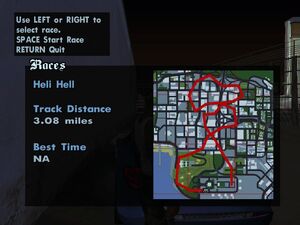 Video Walkthrough