Roblox: DeepWoken - The Loop
Play Sound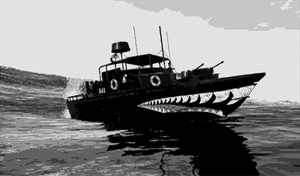 Patrol Boat is a prep mission featured in Grand Theft Auto Online as part of The Cayo Perico Heist update, and a freeroam mission that can be completed at any time while The Cayo Perico Heist strand is active.
It is one of six missions within the Approach Vehicle category that is mandatory for completion, but becomes optional if another of the missions has been completed. Completing this setup allows the player(s) to approach Cayo Perico in finale using a Kurtz 31 Patrol Boat.
There are 2 possible variants for this mission:
Steal from smugglers
"
How do we source fast and maneuverable attack boat? We begin with people who need them most: smugglers. I have been informed of deal taking place at Alamo Sea. One side of the deal is not so trusting. The gunboat they have hiding as backup is perfect for us! We disrupt the deal, and wait for them to bring it to us!
"
— One of Pavel's briefings.

Pavel tells the player that some smugglers are doing a deal at the Alamo Sea, but that one side does not trust the other, so they have a Kurtz 31 Patrol Boat as backup. The player must go to the deal to disrupt it, kill all the smugglers, and wait for the patrol boat to arrive, after which they need to steal it, escape to the ocean, and get it to a drop-off.
Steal from Merryweather
"
The perfect gunboat is a thing of beauty, kapitan. Fast, strong, agile, well-armed. But hard to find. So, recently a private security company has been offered by a mysterious employer with an exotic accent. The job requires amphibious assault, so they have purchased the best attack boat blood money can buy. Very kind of them, yes? Now, we go to pick it up!
"
— One of Pavel's briefings.
Pavel tells the player that Merryweather Security has a Kurtz 31 Patrol Boat at their HQ. The player must go there, disable a few security panels, steal the boat and deliver it to a drop-off point. The player will also have to deal with hostile mercenaries while getting through the HQ base, also more mercenaries show up after the patrol boat has been stolen and mercenaries will show up in Valkyries.
Gallery
Video Walkthrough