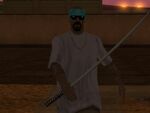 Hazer is a minor character in Grand Theft Auto: San Andreas.
Description
Hazer is a member of the Varrios Los Aztecas. Along with Gal and Sunny, he helps Carl Johnson and Cesar Vialpando take control of the El Corona district of Los Santos from the Los Santos Vagos, during Los Desperados. He is shot and his fate is left unknown. He speaks during his only appearance, although the voice actor is not credited.
Hazer shares the same model and voice as the opponent in the Lowrider Challenge.
Mission Appearances
GTA San Andreas