"
In the world of tactical air support, bigger is better, right? Wrong. Consider this. The next time one of your legitimate business associates arranges to meet you in the bathroom of a crack den in Banning, they could swing open the stall door to find you hovering over the bowl in one of these beauties. Throw in a machine-gun upgrade, and you're going into these negotiations with a serious edge.
Please note: This aircraft is excluded from Pegasus Lifestyle Management and must be stored in a personal hangar.
"
— Elitás Travel description.
The Nagasaki Havok is an ultralight helicopter featured in Grand Theft Auto Online as part of the Smuggler's Run update.
Design
Grand Theft Auto Online
The Havok is evidently based on the Heli-Sport CH-7, with its proportions leaning towards the Kompress/Kompress Charlie.
The Havok is depicted as a single-seat helicopter with a glass canopy that swings forward, black thin landing skids with tall supports and small lamps mounted onto the canopy's hinges, together with a lightweight tail boom using steel tube supports below it, small fins on the upper vertical stabilizer and a small strike guard on the lower one. The engine bay can be partially seen behind the cabin, with various protective frames around it. The interior of the aircraft features a small flight instrument with the "Flyer" dials on it, the pedals, the control stick and the main seat. The canopy is shatterproof, though it is not bulletproof.
The primary color is applied onto the aircraft's body, part of the skid supports, the engine fuel cells and the rotor blades, while the secondary color is applied onto the engine protective frames, tail boom, rear vents, engine cam covers, stick, pedals and seat, with the stitching included as well.
While unarmed by default, the player can equip it with a three-barreled .50 caliber Minigun similar to a GAU-19, just beneath the cabin.
Current Design Gallery
Performance
Grand Theft Auto Online
Vehicle
The Havok has a very nimble handling and good speed thanks to its lightweight, compact design. Its size allows to fly through tight spaces, being similar to the Buzzard.
One major drawback of the vehicle is that the narrow skids cause it to lean erratically upon a fast landing. The rotor blades do not seem to keep the vehicle away from the hard surface either, which causes the Havok to lean to a side and therefore, being very difficult to recover. In addition, the tail rotor is not very resilient to collision damage, only taking a couple of seconds to break it, therefore disabling the helicopter.
Armor
Since the Havok is built primarily for personal transport, it is not intended to be used in heavy combat. The large windshield makes the pilot vulnerable to gunfire, in a similar way to helicopters like the Buzzard or the Frogger.
Countermeasures
The vehicle can be fitted with countermeasures to improve its defensive capabilities against homing missiles, each one with their own attributes:
The Chaff countermeasure disrupts the targeting system from missile launchers, rendering them unable to lock on the aircraft for five seconds. They have a delay of five seconds before being used again and only have 10 uses.
The Flare countermeasure drops various flares from around the rear of the aircraft, which can "disorient" the homing missile in order to avoid chasing the aircraft. They have a delay of three seconds before being used again and only have 20 uses.
The Smoke countermeasure creates a trail of smoke that can disorient the enemy pilot, but its effectiveness is very limited, as the trail is large enough for a standard cockpit and the enemy pilot would just need to move away and follow the smoke trail. It has no delay between uses and can be used indefinitely.
Weapon
Minigun: The Havok has the option to equip a .50 caliber Minigun, which offers moderate firepower and high fire rate, ideal for aerial offensive and self-defensive situations. However, the helicopter's poor pitch angle makes it difficult to fight against ground targets.
GTA Online Overview



Aircraft Statistics - Grand Theft Auto Online

Take-Off Speed
(0-60 knots in Seconds)
Top Speed
(mph / kmh / knots)
Vertical Climb/ Descent Rate
(ft/min)
Engine Type
Engine Location
Mass
(kg / lbs)
Fuel Tank
Size (litres)

Handling.meta

N/A
N/A
N/A
N/A
N/A
N/A
N/A

Website Statements

[?]

N/A
N/A
N/A
N/A
N/A
N/A
N/A

Observed / First-Person Airspeed Indicator (Enhanced version)

N/A
N/A
N/A
Single Flat-4, 2-bladed propeller
Rear
Cannot be observed
Cannot be observed

Rockstar Games Social Club

Speed
Acceleration
Braking
Agility
Modifications
Grand Theft Auto Online
Category
Modification
Cost
Image
Armor
No Armor
$1,000
Armor Upgrade 20%
$7,500
Armor Upgrade 40%
$12,000
Armor Upgrade 60%
$20,000
Armor Upgrade 80%
$35,000
Armor Upgrade 100%
$50,000
Countermeasures
None
$700
Chaff (10)
$70,000
Flare (20)
$110,000

Smoke

White
Black
Blue
Yellow
Purple
Orange
Green
Red
Pink
Cyan

$68,500
Engine
EMS Upgrade, Level 1
$9,000
EMS Upgrade, Level 2
$12,500
EMS Upgrade, Level 3
$18,000
EMS Upgrade, Level 4
$33,500
Handling
Stock Handling
$1,000
Smooth Handling
$20,000
Sport Handling
$27,000
Race Handling
$35,000
Livery
None
$11,400
The Havok Basics
$18,240
Havok Stickerbomb
$19,380
Sprunk 'The Essence Of Life'
$20,520
Havok Masters
$21,660
Meteorite Snack
$22,800
Fleeca Bank
$23,370
Liberty City National
$23,939
eCola 'Deliciously Infectious'
$24,510
Respray
Main article: Los Santos Customs/Respray Colors
-
Sell
Sell Vehicle
Weapons
No Weapon
$700
.50 Cal Minigun
$195,000
Image Gallery
Grand Theft Auto Online
Video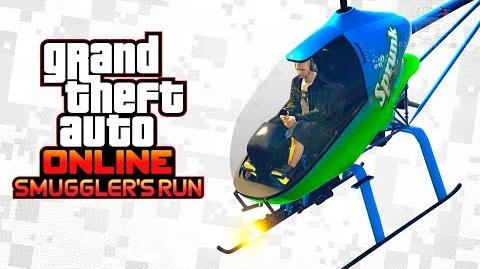 Prominent Appearances in Missions
Grand Theft Auto Online
Locations
Grand Theft Auto Online
Available for purchase on Elitás Travel for $2,300,900 or for $1,730,000 (after completing 12 Air Freight Cargo source missions), provided the player already owns a Hangar.

Once purchased, this unlocks the ability to request the vehicle for FREE from Securoserv Vehicles or Motorcycle Club Vehicles by the Road Captain.
It is classed as a Small vehicle.
Trivia
General
Its name is a variation of Havoc, which is related with similar words commonly associated with widespread destruction or disorder.
Grand Theft Auto Online
The Havok was incorrectly labeled as the unarmed Buzzard in early Rockstar Games announcements for the Smuggler's Run update.
Sometimes, if the Havok's canopy is obstructed, the player may appear mid-air and slowly falling to the ground with no damage when leaving the vehicle.
The lights have a road legal cut off pattern, much like a car's headlights, indicating reused textures from some sort of vehicle.
When applying a livery, the control stick will bear the same markings as the tail.
See Also
References
↑ Seen when parked or when another player is flying a Havok.