"From now through November 16th in GTA Online, special Halloween treats will be available to the residents of Los Santos and Blaine County on PS4, Xbox One and PC. And no tricks here – once acquired these special items will remain in your inventory, even after November 16th."
―Rockstar Newswire description.
The Halloween Surprise was initially a content DLC for the enhanced version of Grand Theft Auto Online and is later a recurring special event that is hosted every Halloween.
Release
2015
The content update added two new vehicles to GTA Online, the Albany Lurcher and Fränken Stange, a new weapon, the Flashlight, many new monster-themed masks and face paints, and a new Adversary Mode, Slasher. The new content will only be available to players until November 16th, but players who purchased any of the new items during this time period will still have these items in their inventories after November 16th and can be bought again after they were previously sold.
2016
"Hit the streets today with the new café racer inspired Pegassi Vortex motorcycle and starting this Friday, it's time to enjoy the dark revelries of Halloween weekend in GTA Online with the release of the frightful new LCC Sanctus motorcycle, a bloodthirsty new Adversary Mode and more. And starting now through November 7, celebrate this month's anniversary of GTA Online with a massive assortment of discounts spanning three years' worth of content updates, as well as a chance to score some serious bonus cash."
―Rockstar Newswire, 2016
See Also: GTA Online: Bikers#10/28/16
The original 2015 content was made available for purchase once again, and new content added in the Bikers update was also made available, including the new Sanctus Halloween motorcycle, and a new Adversary Mode, Lost Vs Damned, was released.
2017
"It's Halloween in Los Santos, which means it's time to terrorize the neighborhood while reaping the benefits of a litany of bloodcurdling bonuses and deadly discounts."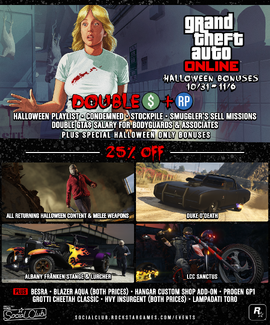 Halloween Surprise returns as two separate events which run closely together.[1][2]
The first, officially named "Halloween Specials", began on 27 October, and ran until 6 November, 2017. This released new Halloween-themed content and re-released pre-existing Halloween content. This event ran alongside Anniversary Specials 2017 which celebrated 4 years of GTA Online.
A second batch of Halloween Surprise bonuses was ran, named "Halloween Bonuses 2017". This event began on 31 October and ran until 6 November, 2017.
Halloween Specials
Re-release of content (available October 27 - November 6, 2017):
Release of new content (available October 27 - November 6, 2017):
Double GTA$ & RP in the Adversary Mode, Condemned, through November 6th.
Double GTA$ & RP payouts to all participants of Air Freight Cargo Sell Missions, through November 6th.

Double GTA$ Salary payouts for associates that are involved in the aforementioned Sell Missions.
Halloween Bonuses 2017
25% discount on selected vehicles:
Halloween Bonuses 2018
Players who logged on during the event were awarded the Psycho Swingers, Zombie Liberals in the Midwest, and Twilight Knife T-Shirts.
Discounts on selected vehicles:
Discounts on selected properties:
35% discounts on selected clothing:
Halloween Surprise 2019
Content
Character Customization
39 masks and 29 face paints have been added for a limited time.
All clothing items can only be purchased during the Halloween Surprise events held yearly.
Weapons
One new weapon available:
| Image | Name | Description | Price |
| --- | --- | --- | --- |
| | Flashlight | The Flashlight can be used as a light for the dark and as a melee weapon. | $5,290 |
Vehicles
The content DLC released two new vehicles:
New Adversary Mode
One new Adversary Modes available:
Others
Discounts & Bonuses
Exclusive T-Shirts available when logged in on the following days:

October 30, 2015: Knife After Dark
October 31, 2015: Psycho Swingers
November 1, 2015: Zombie Liberals From The Midwest

The Official Rockstar Livestream allowed 10 people to receive 4 different T-Shirts, one was a Vinewood Zombie T-Shirt.

The next week there was another giveaway for only one t-shirt, which was one that was given out during the previous livestream, this time available for around 50 lucky winners.
Double RP for all Land Races
A Rockstar LiveStream featuring the t-shirts mentioned above from the previous streams.
Exclusive T-Shirts available when logged in on the following days:

November 13, 2015: The Simian
November 14, 2015: Vampires On The Beach
November 15, 2015: Splatter and Shot
Double GTA$ and RP for the Slasher Adversary Mode
Gallery
Halloween Surprise
Halloween Specials 2017
Halloween Bonuses 2017
Video
Trivia
References
Community content is available under
CC-BY-SA
unless otherwise noted.