New Pokemon Games - The Loop
Play Sound
| | | |
| --- | --- | --- |
| | This article has just been born! It is currently Under Construction. The following content may be incomplete and/or not verified. | |
This page covers all trailers released for Grand Theft Auto Online.
Grand Theft Auto Online: Official Gameplay Video
The Grand Theft Auto Online: Official Gameplay Video was released on August 15, 2013. The trailer is narrated by an out-of-game narrator and showcases the game using all in-game gameplay footage, including multiple missions, many of the game's activities and features.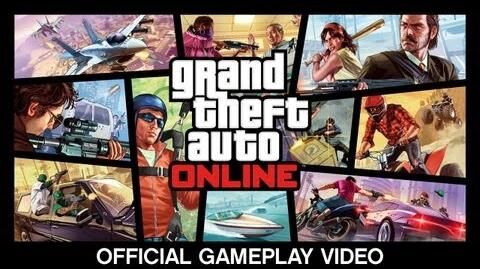 Transcript
Transcript
| | |
| --- | --- |
| Narrator: | With Grand Theft Auto Online, Rockstar Games is looking to bring the heart of the Grand Theft Auto experience to a living online world with multiple players. Just what you choose to do in that world, is up to you. The game combines a consistent and continuingly expanding world, full of personalities. |
| | |
| --- | --- |
| Lester Crest: | Welcome to paradise, heh. Well that was awkward. |
| | |
| --- | --- |
| Narrator: | With a wide array of redesigned mechanics, and a huge range of both structured, and unstructured activities for you to do. After you fly into Los Santos, you're introduced to the world and its many opportunities for earning and spending money. |
| | |
| --- | --- |
| Lamar Davis: | You need to better represent-ate yourself, you know what I'm talking about? |
| | |
| --- | --- |
| Narrator: | Having fun, and getting into trouble. You can run around on your own making friends, and enemies. or band together and form a crew. Then tackle a heist, rob a liquor store, or compete in classic online modes. Or do much more besides. Complete any job, and you'll make money and earn reputation. Then you can spend peddy cash customizing your character, their outfits, weapon of choice, or favorite vehicle. As you make some real money, maybe you can buy an apartment, so friends can stop by and hang out, or buy a garage. Fill it with custom vehicles, and then take them racing by land, air, and sea. Or simply cruise around showing off. Everything you do helps you progress through the world. Introducing you to new characters. |
| | |
| --- | --- |
| Gerald: | Now keep your mouth shut about me, you hear? |
| | |
| --- | --- |
| Narrator: | New missions, rewards, and almost limitless opportunities. Rockstar will be constantly developing more content for you to enjoy. But you'll also be able to design your own races, and death matches using the content creator. Then you can share them with friends, and the world. Or try ones that other people have made. Grand Theft Auto Online brings the freedom of the Grand Theft Auto experience. To multiple players, in a dynamic shared world. |
Independence Day Special
San Andreas Flight School Update
Heists
The Grand Theft Auto Online: Heists Trailer was released on Tuesday, December 16, 2014. Three teaser trailers and a TV Spot announcement were released shortly before the title update's release date.
Freemode Events
Lowriders
Executives and Other Criminals
Be My Valentine
Lowriders: Custom Classics
Further Adventures in Finance and Felony
Cunning Stunts
Bikers
Import/Export
Cunning Stunts: Special Vehicle Circuit
Gunrunning
Smuggler's Run
The Doomsday Heist
Southern San Andreas Super Sport Series
After Hours
Arena War
The Diamond Casino & Resort
The Diamond Casino Heist
Los Santos Summer Special
The Cayo Perico Heist
Los Santos Tuners
Trivia
In the GTA Online: Heists Trailer, when Lester said "I know you've been complaining, but you weren't ready", this is an obvious reference made by Rockstar about their fans complaining about when heists were coming out.