Raise a Floppa - The Loop
Play Sound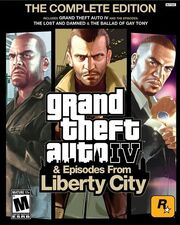 "
Niko Bellic, Johnny Klebitz, and Luis Lopez all have one thing in common - they live in the worst city in America.
Liberty City worships money and status, and is heaven for those who have them and a living nightmare for those who don't.
Niko is looking to escape his past and make a new life for himself in the land of opportunity. Johnny, a veteran member of The Lost biker gang, is caught in the middle of a vicious turf war with rival gangs for control of the city. Luis, part-time hoodlum and full time assistant to legendary nightclub impresario Tony Prince (a.k.a. "Gay Tony"), is struggling with the competing loyalties of family and friends in a world in which everyone has a price. Their lives cross paths with devastating consequences as they fight to survive in a city torn apart by violence and corruption.
"
— Game description on Rockstar Games Launcher
Grand Theft Auto IV: The Complete Edition is a game that was developed by Rockstar North, and produced by Rockstar Games. The game features the original GTA IV storyline, as well as having both its DLCs, in one disc (2 discs for the Xbox 360 version). The game was released on October 26, 2010, in the US, for PS3, Xbox 360, and PC.
When the game is booted up, it loads until a 'Game Select' screen appears. At that screen, it displays all three game logos (TBoGT, IV, and TLAD from left to right), and then the player of the game decides which game they want to play. After the game is selected, it starts as per usual compared to the originals. All of the episodic songs will be included on the radio stations, allowing the player to listen to the original IV soundtrack and the episodes' songs in any of the three games (similar to downloading the episodes alone with the base GTA IV). After choosing the game from the starting menu, the player can go to the pause menu and load a save file from any other game if they choose to.
The PC version, however, is merely a bundle of the base GTA IV and the EFLC compilation, with both games installing as two separate games. This was until an update on March 19, 2020, which combined GTA IV and EFLC into one game named "The Complete Edition". This version is similar to the console versions, albeit with removed multiplayer and removed tracks due to expired music licences.
From March 19, 2020, the PC version of Complete Edition lacked the EFLC-exclusive radio stations, Vice City FM, Self-Actualization FM, and RamJam FM, but the stations were patched into the game on June 3, 2020.
See Also