Grand Theft Auto: Vice City Main Theme

"
The depth of this game is unparalleled; there are hordes of side quests and missions and cool little easter eggs. You need to follow the main story in order to open up the whole city and gain access to property acquisition, but you can still spend hours just wandering around getting into trouble.
"
— Ben Silverman,
Game Revolution
.
Grand Theft Auto: Vice City (also referred to as GTA Vice City, Vice City and abbreviated GTAVC) is a video game developed by Rockstar North. It is the fifth installment in the Grand Theft Auto series and the second game in the 3D Universe timeline of the series.
The game is set in Vice City, Florida, in 1986, and concerns the exploits of protagonist Tommy Vercetti as he rises to become Vice City's major criminal power. The game's events follow on from Grand Theft Auto: Vice City Stories.
Designed by Rockstar North and published by Rockstar Games, it debuted in North America on October 27, 2002 for PlayStation 2 and quickly became the best-selling video game of the year. Following this success, GTA Vice City saw releases in Europe, Australia and Japan, and became available on PC and Xbox. Later, Rockstar Vienna packaged the game with its predecessor, GTA III, and sold it as the Grand Theft Auto: Double Pack for Xbox, and finally it debuted for iOS and Android December 6, 2012 as a celebration of its 10-year anniversary. As of April 2015, GTA Vice City is the fourth best-selling PlayStation 2 game of all time in the United States. GTA Vice City also appeared on the Japanese magazine Famitsu's readers' list of 100 all-time favorite videogames in 2006.
Its original release version uses a tweaked version of the RenderWare game engine used by GTA III, and similarly presents a huge cityscape, fully populated with buildings (from hotels to skyscrapers), vehicles (cars, motorcycles, boats, helicopters, and planes) and people.
On November 11, 2021, the game was re-released on 8th and 9th generation consoles for in honor of Grand Theft Auto III's 20-year anniversary under the title Grand Theft Auto: Vice City - The Definitive Edition, included in the Grand Theft Auto: The Trilogy - The Definitive Edition bundle.
Storyline
From the official site:
"Welcome to Vice City. Welcome to the 1980s.
Having just made it back onto the streets of Liberty City after a long stretch in maximum security prison, Tommy Vercetti is sent to Vice City by his old boss, Sonny Forelli. They were understandably nervous about his reappearance in Liberty City, so a trip down south seemed like a good idea. But all does not go smoothly upon his arrival in the glamorous, hedonistic metropolis of Vice City. He's set up and is left with no money and no merchandise. Sonny wants his money back, but the biker gangs, Cuban gangsters, and corrupt politicians stand in his way. Most if not all of Vice City seems to want Tommy dead. His only answer is to fight back and take over the city himself."
Forelli Crime Family overlord Sonny Forelli sends Tommy Vercetti, who was recently released from prison, to Vice City in order to gain profit off the uprising of the drug trade in the city.
After arriving in Vice City, Tommy, Harry and Lee are introduced to Ken Rosenberg who is tasked with driving them to a drug deal with the Vance brothers. But the deal is ambushed and one of the brothers along with Harry and Lee are killed and the money and cocaine are stolen.
After Tommy and Rosenberg discuss what they plan to do, Tommy calls Sonny and tells him the deal was a setup. After some hostile words, Sonny agrees to let Tommy handle the situation while Rosenberg tells Tommy about Juan Cortez, a retired colonel who helped set up the deal. After meeting him, his daughter Mercedes Cortez introduces him to the many of the more popular guests including Vice City's largest drug baron Ricardo Diaz at the party before asking him to take her to the The Pole Position Club.
Rosenberg then tells Tommy that Kent Paul may know what became of Tommy's merchandise and Paul tells Tommy that Leo Teal may know what happened. Tommy confronts Teal and beats him to death before being confronted by Lance Vance, the third survivor in the botched deal. Tommy and Lance form an alliance and vow to get the money and drugs back.
Rosenberg then introduces Tommy to Avery Carrington, a property developer. Avery gives Tommy work and in exchange offers to protect Tommy from any threats to his operation.
Tommy is then offered some work from Cortez, who has Tommy kill Gonzalez, a former right-hand who is responsible for botching the deal. Tommy kills Gonzalez and goes for more work. He runs into Lance again and the two watch over a drug deal between Diaz' Gang and the Cubans. But the Haitians ambush the deal as Tommy, Lance and Diaz are forced to fight back and afterwards Tommy is offered work from Diaz.
During his work for Diaz, Lance learns that Diaz' gang were the ones who ambushed the deal and killed their associates. Tommy however plans to gain Diaz' trust before attempting to kill him. Lance loses patience and secretly attempts to kill Diaz, but he fails and Tommy is forced to rescue him. With their cover blown, Tommy and Lance head to Diaz' mansion and kill him. With Diaz dead, Tommy is given more opportunities to take over the town.
Tommy ends up buying many businesses and expanding on his business. But Lance begins to feel under appreciated, causing a rift between him and Tommy. Meanwhile, Sonny loses patience and personally comes to Vice City to claim his money. Tommy plans ahead and attempts to give him fake money, but Lance betrays Tommy, reveals the plan to rip off Sonny and the Forellis attempt to kill him. Tommy kills Lance and then Sonny and is ultimately wounded in the chaos. Tommy then makes Rosenberg his right-hand man.
Voice Cast
Development
Rockstar North began to develop Grand Theft Auto: Vice City in late 2001, around the time of Grand Theft Auto III's release.[2] While initial development only involved creating 3D models, executive producer Sam Houser said "it really kicked off at the beginning of 2002" and lasted about nine months.[3] After the release of the Windows version of Grand Theft Auto III, the development team discussed creating a mission pack for the game that would add new weapons, vehicles, and missions. Upon further discussion, the team decided to make this concept a stand-alone game, which became GTA Vice City.[4] The game was announced on 22 May 2002, during the Electronic Entertainment Expo. It was Rockstar North's most expensive game at the time, with a budget of US$5 million. On 5 September 2002, the company announced that the release date of 22 October had been postponed until 29 October to meet product demand.[5] By 15 October 2002, development of Vice City stopped as the game was submitted for manufacturing. Capcom published the game in Japan on 20 May 2004 for PlayStation 2 and Windows. The game was added to the Rockstar Games Launcher in September 2019.
Setting
The game is set in 1986 in fictional Vice City, which is based heavily on the city of Miami.[6] Vice City previously appeared in the original Grand Theft Auto; the development team decided to reuse the location and incorporate ideas from within the studio and the fanbase.[7] They wanted to satirize a location that was not contemporary, unlike Grand Theft Auto III's Liberty City. The team wanted to choose a location that had various similarities and differences to New York City—the inspiration of Liberty City—eventually leading them to Miami, which producer Leslie Benzies describes as "a party town, all sun and sea and sex, but with that same dark edge underneath". Sam Houser called it "the grooviest era of crime because it didn't even feel like it was crime... it was a totally topsy-turvy back-to-front period of time". The team intended to make Vice City a "living, breathing city", for the player to feel like "life still goes on" while the character is inside a building.[8]
The game's look, particularly the clothing and vehicles, reflect its 1980s setting. Many themes are borrowed from the major films Scarface (1983) and Carlito's Way (1993), the latter for its characterization and portrayal of nuanced criminals. The television series Miami Vice (1984–89) was also a major influence and was regularly watched by the team throughout development.[9] Art director Aaron Garbut used the series as a reference point in creating neon lighting. In recreating a 1980s setting, the team found it "relatively painless" due to the distinct culture of the time period and the team's familiarity of the era. The art team was provided with large volumes of research, as well as reference photographs from other members of the development team. The team organized field research trips to Miami shortly after the development of Grand Theft Auto III, splitting into small teams and observing the streets.
Story and Characters
The team spent time "solving [the] riddle" of a speaking protagonist, a notable departure from Grand Theft Auto III's silent protagonist Claude.[10] Ray Liotta portrayed protagonist Tommy Vercetti. Liotta described the role as challenging: "You're creating a character that's not there before... It's so intensive". When recording the role, the team used blue screen in order to allow Liotta to visualize "how it's gonna move".[11] The team ensured that the player felt "real affinity" for Tommy, making the narrative a key development interest. Dan Houser described Tommy as "strong and dangerous and prepared to wait for the right opportunity to arrive". Director Navid Khonsari recalled Liotta frequently complaining on set and found him difficult to work with as a result.[12] "In some sessions he was... into it, but then sometimes... he was very dark and couldn't work", said Sam Houser.[13] Following the game's success, Liotta reportedly complained that he was underpaid for the role.[14]
The majority of the game's animations were original, with only a few borrowed from Grand Theft Auto III. For the characters, the team used motion capture and stop motion animation techniques; cutscenes use the former, while gameplay movements use a combination of both techniques. The team encountered difficulty in animating motorcycle animations, due in part to the variety of models.[15] Pedestrian character models use skins in GTA Vice City, allowing the artists to produce more realistic characters. There are 110 unique pedestrian models throughout the game world alongside roughly 50 story characters; each character is rendered using twice the amount of polygons and textures found in Grand Theft Auto III. This also impacted the character physics, improving gameplay aspects such as weapon-hit accuracy.[16] Some character models and scenarios were inspired by films such as The Godfather (1972), and the game's presentation was inspired by action television shows of the 1980s. The interplay between Tommy Vercetti and Lance Vance was crafted to be similar to the relationship of Miami Vice's Sonny Crockett and Ricardo Tubbs.
Sound Design and Music Production
The game features 8,000 lines of recorded dialogue, four times the amount in Grand Theft Auto III. It contains over 90 minutes of cutscenes and nine hours of music, with more than 113 songs and commercials. The team was interested in the challenge of creating the game's soundtrack, particularly in contrast to Grand Theft Auto III's music, which Sam Houser described as "clearly satirical and its own thing". In developing the radio stations, the team wanted to reinforce the game's setting by collating a variety of songs from the 1980s and therefore performed extensive research.[17] The radio stations were published by Epic Records in seven albums—known collectively as Grand Theft Auto: Vice City Official Soundtrack Box Set—alongside the game in October 2002.[18][19] Vice City contains about "three times as much" talk radio as Grand Theft Auto III. Producer and talk show host Lazlow Jones stated that the small percentage of station listeners that actually call in are "insane"; in Vice City, the team "bumped it up a notch", emphasizing the extremity. Dan Houser felt that the talk stations give depth to the game world.[20]
Setting and Influences
GTA Vice City is arguably the most heavily influenced Grand Theft Auto game, taking inspiration from a wide range of classic 1980s movies, television programmes and music.
Perhaps the closest real-life counterpart to GTA Vice City is the television series Miami Vice. Aside from the broad-ranging similarities (80's music — including new wave, hip-hop, R&B, soul, glam metal and synthesizer pop — organized crime, drug trafficking, styled cars, pastel clothes etc.), several specific references are included. For example, at a 3-star wanted level or above, the player will be chased by two undercover police officers named Cracker and Butts, who strongly resemble Sonny Crockett and Ricardo Tubbs, the primary characters from the TV series. Furthermore, these officers drive a VCPD Cheetah, which is itself styled after the 1986 Ferrari Testarossa, Crockett's car in the latter three seasons of the show.
Another direct link to Miami Vice is the inclusion of "Crockett's Theme," a piece of instrumental music from the show, on the in-game radio station Emotion 98.3. Many other popular songs that were used in Miami Vice are featured on the game's radio stations, including "Self Control" by Laura Branigan, "Turn Up the Radio" by Autograph and "Missing You" by John Waite. The musical similarities extend to the background score composed specifically for the game — many cutscenes and the end credits feature ambient, synth-heavy tracks very much in the style of Jan Hammer, who provided the background music for the show, while the "Theme from Vice City" is comparable to Hammer's "Miami Vice Theme".
One of the game's primary characters, Lance Vance, is voiced by Philip Michael Thomas, who portrayed Tubbs in Miami Vice. His initial goal in the game — to avenge the death of his brother in a drug deal gone wrong — mirrors Tubbs' objective in the show's pilot episode. Several vehicles and weapons in Vice City are also taken from the TV series, including the Squalo (Sonny Crockett's speedboat), the Stinger (Crockett's Ferrari Daytona, his car for the first two seasons, the Marquis (Crockett's sailing yacht), the Infernus, the Katana (featured during the climax of the episode "Bushido"), the Stubby Shotgun (Tubbs' signature weapon in the later seasons of the show) and the MAC-10 (a weapon smuggled in the episode "Evan").
Two of the antagonists of the game share their first names with the two main characters of Miami Vice. Ricardo Diaz who was responsible for the botched the drug deal shares his first name with Ricardo Tubbs and Sonny Forelli who was responsible for setting Tommy up and making him serve 15 years in prison shares his first name with Sonny Crockett.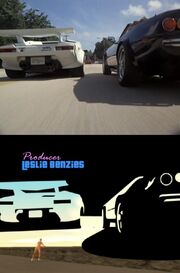 Other more subtle references to Miami Vice appear in the game. For example, during the opening credits sequence, one of the stylized images that appears framing the in-game footage is actually a screenshot from the episode "Bought and Paid For", showing Nico Arroyo's Lamborghini Countach being chased by Crockett's Daytona. The attire worn by the Cuban and Haitian gangs in the game is taken from two prominent extras in a scene at Miami International Airport in the pilot episode of the show. Also, the game's Hidden Packages, small green "tiki statues" packed with cocaine, are a reference to the episode "Milk Run", in which cocaine is smuggled in an identical fashion.
Another significant influence on GTA Vice City is the 1983 film Scarface, starring Al Pacino as Tony Montana. Several in-game locations, such as the mansion that becomes the Vercetti Estate and the Malibu Club, are obviously styled after locations featured in the movie. Elsewhere in the city, there is a hidden apartment containing a chainsaw within a blood-stained bathroom, a nod to Scarface's infamous chainsaw dismemberment scene. The game's final mission mirrors the end of the movie; in both instances, the main character is assaulted by an army of Sosa's goons at their mansion leading to a large shootout (although Tommy survives, whereas Montana does not). The "Mr. Vercetti" outfit available from the The Pole Position Club strongly resembles an outfit worn by Tony Montana, and even Tommy Vercetti himself takes many character traits from Al Pacino's character, specifically his short temper, his heavy dealings in the cocaine trade and his desire to rise to the top.
It is also worth noting that the radio station Flashback FM from Grand Theft Auto III exclusively features songs written for the Scarface soundtrack; the developers acknowledged the film as being a major influence on the overall rise-to-criminal-power theme of that game, and the soundtrack was included as an homage.
Other references and influences on Vice City include:
Resources
Reception
GameSpot rated the game 9.6/10, giving it an Editor's Choice award. Its record was surpassed by its successor Grand Theft Auto: San Andreas. GameSpot's Best and Worst of 2002 Best Music on PlayStation 2, Best Action Adventure Game on PlayStation 2, Game of the Year on PlayStation 2. IGN's Best of 2002 Best Adventure Game for PlayStation 2 (Editor's Choice and Reader's Choice), Special Achievement for Sound (Reader's Choice), Best Game of the Year for PlayStation 2 (Editor's Choice and Reader's Choice), BAFTA Video Games Awards Best Design, Best PC Game, Best Action Game, Sunday Times Reader Award for Games, Best PlayStation 2 Game, Best Sound.
Despite near-universal acclaim, GTA Vice City was voted "Most degrading Video Game to women" a few months after its release.
Accolades
| Date | Award | Category | Recipient(s) and Nominee(s) | Result |
| --- | --- | --- | --- | --- |
| 28 November 2003 | Golden Joystick Awards | Ultimate Game of the Year | Grand Theft Auto: Vice City | Won |
| 28 November 2003 | Golden Joystick Awards | Best PlayStation 2 Game | Grand Theft Auto: Vice City | Won |
| 2003 | GameSpot Game of the Year 2003 Awards | Best PlayStation 2 Game | Grand Theft Auto: Vice City | Won |
| 2003 | GameSpot Game of the Year 2003 Awards | Best Action/Adventure Games | Grand Theft Auto: Vice City | Won |
| 2003 | GameSpot Game of the Year 2003 Awards | Best Music | Grand Theft Auto: Vice City | Won |
| 2003 | GameSpot Game of the Year 2003 Awards | Best Sound | Grand Theft Auto: Vice City | Nominated |
| 2003 | GameSpot Game of the Year 2003 Awards | Best Graphics | Grand Theft Auto: Vice City | Nominated |
| 2003 | GameSpot Game of the Year 2003 Awards | Best Story | Grand Theft Auto: Vice City | Nominated |
| 16 January 2004 | IGN's Best of 2003 | Best PlayStation 2 Game | Grand Theft Auto: Vice City | Won |
| 16 January 2004 | IGN's Best of 2003 | Best Action/Adventure Game | Grand Theft Auto: Vice City | Won |
| 16 January 2004 | IGN's Best of 2003 | Reader's Choice Overall Game of the Year | Grand Theft Auto: Vice City | Runner-Up |
| February 2004 | 1st British Academy Games Awards | Best PlayStation 2 Game | Grand Theft Auto: Vice City | Won |
| February 2004 | 1st British Academy Games Awards | Best PC Game | Grand Theft Auto: Vice City | Won |
| February 2004 | 1st British Academy Games Awards | Best Action Game | Grand Theft Auto: Vice City | Won |
| February 2004 | 1st British Academy Games Awards | Best Design | Grand Theft Auto: Vice City | Won |
| February 2004 | 1st British Academy Games Awards | Best Sound | Grand Theft Auto: Vice City | Won |
| February 2004 | 1st British Academy Games Awards | Sunday Times Reader Award for Games | Grand Theft Auto: Vice City | Won |
| February 2004 | 1st British Academy Games Awards | Best Animation or Intro | Grand Theft Auto: Vice City | Nominated |
| February 2004 | 1st British Academy Games Awards | Best Technical Achievement | Grand Theft Auto: Vice City | Nominated |
Editions
10th Anniversary Edition
Grand Theft Auto: Vice City 10th Anniversary Edition was announced by Rockstar on October 26th, 2012.[21] On November 21, 2012, Rockstar further revealed it would be launched on December 6, 2012 for iOS and Android devices, and would cost $4.99 for both the App Store version and the Google Play version (with the British release costing £2.99 for the App Store and £3.29 for the Google Play Store).[22]
Rockstar announced that it would include "native high-resolution graphics and several enhancements unique to the iOS and Android platforms including updated character models and lighting effects, new and more precise firing and targeting options, a fully customizable control layout and native support for retina display devices."[23]
The Definitive Edition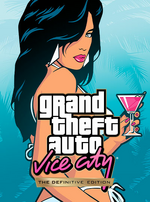 The Definitive Edition was announced by Rockstar on October 8th, 2021, as part of the Grand Theft Auto: The Trilogy - The Definitive Edition pack. The edition was released on November 11, 2021 for PlayStation 5, PlayStation 4, Xbox Series X|S, Xbox One, Nintendo Switch and PC; and will be released in 2022 for Apple iOS and Android.
The edition features across-the-board upgrades including graphical improvements and modern gameplay enhancements, while still maintaining the classic look and feel of its original version.
Gallery
Screenshots
The Definitive Edition
Original Versions
Artworks
See more, Artworks in GTA Vice City
Trailers
Trivia
The logo sequence for Grand Theft Auto: Vice City is reminiscent of the Commodore 64 BASIC command prompt, which was common during the time when the game was set.
The Commodore 64-like opening of GTA Vice City features the melody of the Grand Theft Auto theme song in a vibrant 8-bit tone. It was also the tune for the pager in Grand Theft Auto III.
According to Lazlow Jones, Rockstar began working on GTA Vice City only one month after the release of GTA III.
All license plates in GTA Vice City are similar to real life Florida license plates; an orange logo resembling the state of Florida can be seen on them, some even having the Florida Gators logo.
GTA Vice City is the only 3D Universe game not to feature the AK-47, after it was cut from the final game. However it can still be seen in the loading art, where Phil Cassidy is seen holding one guarding his fort. It can also be seen on the wall of any Ammu-Nation.
GTA Vice City is the second best-selling game of the 3D Universe (behind only Grand Theft Auto: San Andreas) and the fourth best-selling GTA game overall with over 20 million units sold.
In an episode of the Fox TV show Family Guy, Peter suffers with Amnesia and is told by Lois to try playing Grand theft Auto to help. The logo seen on the game tape is that of GTA Vice City.
Some of the GTA Vice City posters have appeared in the Black Eyed Peas' "Where Is the Love?" music video.
On the box art, there is a helicopter in the upper left corner that was never featured in-game. It appears to be a Maverick that features two machine guns on its front.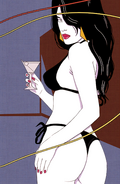 Between its release in 2002 and recent copies of the game after 2012, out of the entire series, GTA Vice City has undergone the most changes out of any GTA game, with several songs removed and some weapons either removed or amended (for example, Tear Gas is only featured on the original PS2 version released in 2002 and the Spaz 12 was changed to Spas 12 in later versions). For unknown reasons, on subsequent PS2 versions and the PS3 version, the Police Scanner in emergency vehicles plays in slow motion.
The Martini Girl from the artwork was featured in Vices (pictured), a painting by Richard Mayes at The Diamond Casino & Resort, in Grand Theft Auto Online.
GTA Vice City is the first game in the series to use the word "fuck". It can be seen on a poster in Phil Cassidy's trailer.
Further Reading
References