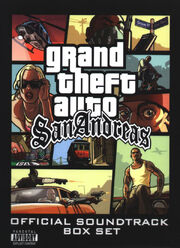 Grand Theft Auto: San Andreas: Official Soundtrack Box Set is an eight-disc compilation CD box set containing music from the video game Grand Theft Auto: San Andreas, featuring music from nine of the game's ten music radio stations. It was released in Europe on December 7, 2004. Unlike the previous soundtrack box set from Grand Theft Auto: Vice City, the eight CDs were not released for purchase individually.
Although the majority of the music from the game is included on the soundtracks, the CDs do not feature every song heard on the relevant radio station. In addition to music, each CD also includes station idents, plus two radio commercials heard in the game.
The talk radio station heard in Grand Theft Auto: San Andreas (West Coast Talk Radio) did not receive a CD release and as such has never been released outside of the game. The station SF-UR is also omitted from the box set, although a single song from the station's playlist was included on the companion compilation CD, which contains a selection of songs from the full set plus the "Theme from San Andreas" and a bonus DVD containing The Introduction.
Track Listing
See Also
Community content is available under
CC-BY-SA
unless otherwise noted.