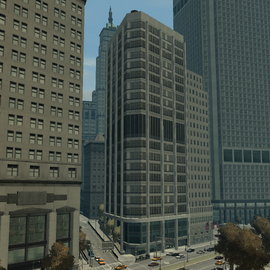 The Goldberg, Ligner & Shyster Building, also known as 44 Amethyst Street[1], is a skyscraper appearing in Grand Theft Auto IV and Grand Theft Auto: Chinatown Wars, located in The Exchange, Algonquin.
Description
The building is located between Amethyst Street to the north, South Parkway to the south and Bismarck Avenue to the west. It is built directly next to the South Parkway-Albany Avenue Building to the east.
It appears as a 21 story high building, serving as a main office for the law firm Goldberg, Ligner & Shyster. The building has a main entrance on the corner on Bismarck Avenue and Amethyst Street.
The GL&S building has a fully accessible interior with two entrances; one leading to the first floor from South Parkway, and the other leading to the third floor from the main entrance. Stairways leading to each floor are present within a fully open interior layout.
In Grand Theft Auto: Chinatown Wars, the building does not feature an accessible interior, and the exterior facade has Lombank signage.
According to the Goldberg, Ligner & Shyster website, they are addressed at 44 Amethyst Street.[1]
The building doesn't appear to reflect any specific building within New York, but does take design cues from several buildings within the Financial District of Manhattan, New York City.
Gallery
See Also
References
Community content is available under
CC-BY-SA
unless otherwise noted.