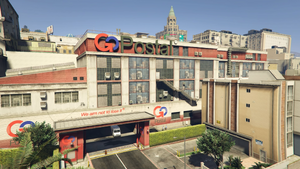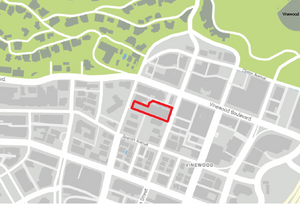 The GoPostal Building is a large postal building in Grand Theft Auto V located in Downtown Vinewood.
Description
The GoPostal building appears to be the company's main warehouse and processing unit, with its headquarters being in Pillbox Hill. Following the company's theme, the building consists of red sections along the rooftop edges and several large GoPostal emblems on the walls. Two large GoPostal signs are mounted on either side.
The building can be accessed from three points. The main entrance, which seems to be the delivery entrance for delivery workers, is a section of road just off Spanish Avenue near 0605 Spanish Avenue. Another access passage crosses the entire building, intersecting with Alta Street and Las Lagunas Boulevard. A row of hedges border the southern perimeter of the area.
Between 05:00 am and 11:00 am, a GoPostal Boxville may be seen driving out of the passage onto Alta Street.[1] A random car can sometimes be seen parked outside the main pedestrian entrance[2] and a GoPostal Boxville can also sometimes be seen parked inside the garage entrance. Several other cars are usually parked on Alta Street outside the building. Postal workers can often be seen hanging around the delivery entrance during early morning.[3]
Events of Grand Theft Auto Online
Despite its prominence in the Downtown Vinewood skyline and the shear size of the building itself, it doesn't play any significance in the story-line of GTA V. In GTA Online, however, the surrounding area is relatively prominent in the Heists Update, particularly the Pacific Standard heist due to its location nearby the Pacific Standard Public Deposit Bank. The car park just above the building on Vinewood Boulevard is the setting of Pacific Standard - Hack in GTA Online, and the passage below the building appears as the final part of the escape route during The Pacific Standard Job heist.
Prominent Appearances in Missions
Grand Theft Auto Online
Gallery
References
Community content is available under
CC-BY-SA
unless otherwise noted.