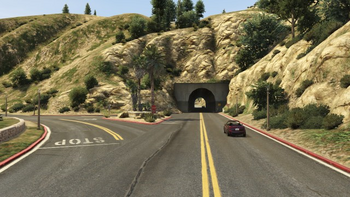 The Galileo Observatory Tunnel is a small tunnel in Grand Theft Auto V on East Galileo Avenue on the northern side of the Galileo Observatory, which is located in Vinewood Hills, Los Santos. It is based on an unnamed tunnel, near the real life Griffith Observatory. It passes under the Arthur's Pass Trails.
Gallery
Trivia
The tunnel resembles the River Road Tunnel from the film Back to the Future Part II, a location that plays a central role in one of the most memorable scenes in the film, in which the main character Marty McFly is being chased by the antagonist Biff Tannen. This is because that scene was actually filmed in and around the same real life tunnel near Griffith Observatory.
Community content is available under
CC-BY-SA
unless otherwise noted.