Fire Emblem Warriors: Three Hopes - The Loop
Play Sound
"
Who needs a super car? Who needs to throw their cash at the finest leather upholstery, godly specs and a body so seductive Aphrodite herself would have bowed down to it? Who needs an all-out-tarmac-tearing-sound-barrier-breaking-sexy-racing-dream-machine? You do. The Grotti Furia - worth selling your second kidney for.
"
—
Legendary Motorsport
description.
The Grotti Furia is a two-door supercar featured in Grand Theft Auto Online as part of the continuation of The Diamond Casino Heist update, released on December 19, 2019, during the Festive Surprise 2019 event.
Description
The Furia was initially featured as one of the cars seen in the casino parking garage and as a mission-only vehicle that can be used as a getaway vehicle in the Casino Heist - The Big Con. However, as of the Festive Surprise 2019 event, it became available for purchase.
Design
Grand Theft Auto Online
The Furia appears to be a mix of a variety of high-performance Ferrari sports cars, particularly the 488 Pista for the frontal shape, and the SF90 Stradale for the rest of the rear section. The side profile, front headlight strip, wheels, and tail lights resemble that of the Pininfarina Battista. The front intakes and side skirts have a strong resemblance to those from the 2017 - present Lamborghini Huracán LP 640-4 Performante. It also derives certain hints from the F8 Tributo, such as headlights. The rear diffuser seems to be taken from the Aston Martin Vantage. The car makes use of dihedral synchro-helix actuation doors, which are a common sight on Koenigsegg cars.
The car is distinctive by its rather large body and aerodynamic features around it, where the front end is largely dominated by a set of intakes on the centre and the outer sides, along with black details on the lower side and around the lower central intake. The upper area features a long light strip that spans the whole car's width and lights up when the engine is on, while the outer sides feature plastic housings containing three circular headlamps and outer vertical vents. On the bonnet area, there is the Grotti emblem on the front and an openable front trunk, with a plastic inset section near the windscreen and a vented section inside. A carbon-fibre strip can be also seen at the base of the windscreen, where the single wiper is located.
On the sides, the car features curved shapes around the rear area and is fitted with plastic skirts, along with lower intakes intended for the air to flow through the rear brakes and silver "FURIA" badges near the rear wheels. The doors slightly moves away of the car when opened and have carbon-fibre mirror shells with small fins on the inner sides, mounted over plastic supports near the A-pillars. The greenhouse area features plastic trim around the windows and a triangle-shaped rear section with a plastic detail on the end, having an openable glass pane on the centre and two intakes beside it, intended for the air to flow through the engine bay. The engine is placed between two carbon-fibre sections and bears the corresponding "FURIA" badges on the cam covers and the Grotti badge on the rearmost side of the centre. Like the T20, the Furia features a mechanical spoiler that is typically hidden and blends into the rear end of the car, which will raise on high speeds and stay active until the car comes to a stop.
The rear of the car makes use of a single red light strip spanning the whole car's width, placed over a rear exit vent that bears a silver "FURIA" badge on the centre. Both the license plate and the small reverse lamp are seen on a flat central section, while the lower area is predominated by a plastic overhang that surrounds another exit vent, with the corresponding sections for the two small red lamps and the dual-exit exhaust tips. The underside of the car is fully carbon plated, surrounded by the aforementioned plastic details on the front and sides, together with a rear diffuser that is mostly finished in plastic.
The interior of the car is the same as in the FMJ, though it uses the carbon paddle shifts from cars like the Tempesta and the Toros. A Grotti badge can be seen in the horn cap, while a rectangular window can be also seen behind the seats, which allows the occupant/s to see the engine.
The primary colour of the car is applied on the body and part of the rear diffusser, while the secondary colour is applied on the cabin area, the details of the engine and the centre of the wheels. A trim colour is also available for the interior stitching. It uses a unique set of ten-spoke angled rims with a star-shaped centre. These rims can also support a dedicated colour, although only examples generated in Content Creator or the one appearing in the parking lot of the Diamond Casino & Resort may have one.
Current Design Gallery
Performance
Grand Theft Auto Online
The Furia is a good all-around car. Because of the car's drivetrain configuration, it therefore has excellent traction, coupled with good, albeit understeer-happy handling at high speeds. Acceleration is good due to the Furia being an all-wheel-drive vehicle, but has a very mediocre top speed. When fully upgraded, the Furia reaches a respectable 122mph (196.3km/h), but is still slower than many cars in its class.
Despite being of a similar size and shape to most generic supercars, the Furia is surprisingly resistant; it is heavy enough to spin out most vehicles found in traffic, and its body is resistant to crashes and overturns, especially if upgraded with armour from Los Santos Customs.
The Furia is powered by a V12 engine similar to the Infernus Classic and the Toros, powering all four wheels through a 6-speed gearbox. Its engine sound appears to be a lower-pitched variation of the ones used in cars like the Cheetah.
GTA Online Overview



Vehicle Statistics - Grand Theft Auto Online

Acceleration
(0-60 mph in Seconds)
Top Speed
(mph / kmh)
Gears
Engine
Drivetrain
(FWD / RWD / AWD)
Mass
(kg / lbs)
Fuel Tank
Size (litres)

Handling.meta

[?]

N/A
100.2 / 161.2
6
N/A
AWD
50% FWD
50% RWD
1898 / 4184
65

Website Statements

[?]

/ Badges

N/A
N/A
N/A
N/A
N/A
N/A
N/A

Observed

N/A
N/A
6

M4

V12 (In-game model)
AWD
Cannot be observed
Cannot be observed

Rockstar Games Social Club

Speed
Acceleration
Braking
Traction
Modifications
Grand Theft Auto Online
Category
Modification
Price
Image
Armor
No Armor
$1,000
Armor Upgrade 20%
$7,500
Armor Upgrade 40%
$12,000
Armor Upgrade 60%
$20,000
Armor Upgrade 80%
$35,000
Armor Upgrade 100%
$50,000
Brakes
Stock Brakes
$1,000
Street Brakes
$20,000
Sport Brakes
$27,000
Race Brakes
$35,000
Bumpers
Front Bumpers
Stock Front Bumper
$2,200
Custom Splitter
$4,600
Primary Custom Splitter
$7,400
Secondary Custom Splitter
$11,700
Street Splitter
$14,500
Carbon Street Splitter
$14,700
Super Splitter
$14,900
Primary Super Splitter
$15,100
Secondary Super Splitter
$15,300
Rear Bumpers
Stock Rear Bumper
$2,200
Primary Fins
$4,600
Secondary Fins
$7,400
Carbon Fins
$11,700
Focus Diffuser
$14,500
Primary Focus Diffuser
$14,700
Secondary Focus Diffuser
$14,900
GT Diffuser
$15,100
Carbon GT Diffuser
$15,300
Canards
None
$200
GT Canards
$750
Primary GT Canards
$1,340
Secondary GT Canards
$1,650
Angled Canards
$3,000
Primary Angled Canards
$3,200
Secondary Angled Canards
$3,650
Rally Canards
$4,100
Primary Rally Canards
$4,550
Secondary Rally Canards
$5,000
Engine
Engine Block
Stock Engine Block
$700
No Accent
$1,100
Primary Accents
$1,350
Engine Tunes
EMS Upgrade, Level 1
$9,000
EMS Upgrade, Level 2
$12,500
EMS Upgrade, Level 3
$18,000
EMS Upgrade, Level 4
$33,500
Exhausts
Stock Exhaust
$260
Titanium Tipped Exhausts
$750
Aluminum Tipped Exhausts
$1,800
Split Oval Exhausts
$3,000
Infinity Exhaust
$9,550
Carbon Infinity Exhaust
$9,750
Primary Jet Exhaust
$10,500
Secondary Jet Exhaust
$12,000
Flushed Exhaust
$13,750
Carbon Flushed Exhaust
$14,625
Titanium Flushed Exhaust
$15,500
Mounted Exhaust
$16,475
Carbon Mounted Exhaust
$17,250
Titanium Mounted Exhaust
$18,125
Exposed Mounted Exhaust
$19,100
Explosives
Ignition Bomb
$5,000
Remote Bomb
$7,500
Hoods
Stock Hood
$1,600
Carbon Hood
$3,000
Ridgeline Hood
$5,000
Carbon Ridgeline Hood
$8,000
Quaded Vent Hood
$9,600
Carbon Quaded Vent Hood
$11,000
Inlet Hood
$11,600
Carbon Inlet Hood
$12,000
Instep Hood
$12,400
Carbon Instep Hood
$12,400
Rally Duct
$12,500
Carbon Rally Duct
$12,900
Hood Vents
$13,250
Primary Hood Vents
$13,600
Secondary Hood Vents
$13,900
Horns
Main article: Los Santos Customs/Horns
-
Lights
Headlights
Stock Lights
$600
Xenon Lights
$7,500
Neon Kits
Main article: Los Santos Customs/Lights
-
Livery
None
$11,400
Black Stripes
$18,240
White Stripes
$19,380
Tricolor
$20,520
Dark 2 Tone
$21,660
Pisswasser
$22,800
Globe Oil
$23,370
Dusche Rally
$23,939
Stronzo Racer
$24,510
Fukaru Warrior
$25,080
Masterpiece
$25,650
Loss/Theft Prevention
Tracker
Full Coverage
Mirrors
Stock Mirrors
$300
Primary Mirrors
$900
Secondary Mirrors
$1,500
Plates
Blue on White 1
$200
Blue on White 2
$200
Blue on White 3
$200
Yellow on Blue
$300
Yellow on Black
$600
Respray
Main article: Los Santos Customs/Respray Colors
-
Roofs
Stock Roof
$200
Primary Roof
$700
Carbon Roof
$1,150
Sell
Sell Vehicle
Skirts
Stock Skirts
$2,500
Primary Skirt Lip
$5,500
Secondary Skirt Lip
$8,000
Carbon Skirt Lip
$10,500
Primary Grotti Skirt
$14,000
Secondary Grotti Skirt
$14,500
Carbon Grotti Skirt
$15,000
Suspension
Stock Suspension
$200
Lowered Suspension
$1,000
Street Suspension
$2,000
Transmission
Stock Transmission
$1,000
Street Transmission
$29,500
Sports Transmission
$32,500
Race Transmission
$40,000
Turbo
None
$5,000
Turbo Tuning
$50,000
Wheels
Main article: Los Santos Customs/Wheels
-
Windows
None
$500
Light Smoke
$1,500
Dark Smoke
$3,500
Limo
$5,000
Image Gallery
Grand Theft Auto Online
Video
Notable Owners
Grand Theft Auto Online
Yung Ancestor - can be found locked in the underground parking garage of The Diamond Casino & Resort with a custom licence plate reading ANCESTOR. [1] This instance flickered in and out of view but stopped doing so once the vehicle became available to purchase, and, unlike other vehicles in the parking lot, does not allow the player to even attempt to enter it (no "locked door" animation will play).
Furia[2]

File
Color Set
Window Tint?
Livery?
Mod Kit


No
No

Category
Part
Option
Bumpers
Front Bumper
Super Splitter
Rear Bumper
Carbon GT Diffuser
Engine
Engine Block
No Accent
Engine Detail
Air Filters
Cam Cover
Strut Brace
Engine Tunes
Exhaust
Titanium Tipped Exhausts
Fender
Fenders
Left Fender
Right Fender
Secondary Mirrors
Grille
Primary Angled Canards
Hood
Instep Hood
Lights
Lights
Xenon Lights
Plate
Plate
ANCESTOR - Police Government Plate
Plate Holder
Vanity Plate
Skirts
Primary Skirt Lip
Locations
Grand Theft Auto Online
Available for purchase from Legendary Motorsport for $2,740,000 or for $2,055,000 after completing The Diamond Casino Heist as the Heist Leader with the "Big Con: Yung Ancestor" method, using the Furia as the getaway vehicle.
Events
Grand Theft Auto Online
Trivia
"Furia" means "Fury" in Spanish, Portuguese, Italian and Polish.
The default radio station for the Furia is Non-Stop-Pop FM.
The mention of selling a second kidney could possibly be referencing the Itali GTO's description, where owners of the car are recommended to remove a kidney to aid in the car's weight reduction.
Bugs/Glitches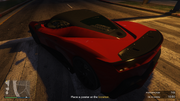 Like the Ignus, the Furia's spoiler may clip into the vehicle when the aerodynamics retract (pictured).
See Also
References
↑ Script Data:


case joaat("furia"):
				switch (iParam2)
				{
					case 0:
						StringCopy(&(Var0.f_1), "ANCESTOR", 16);
						Var0 = 4;
						Var0.f_5 = 138;
						Var0.f_6 = 138;
						Var0.f_7 = 89;
						Var0.f_8 = 21;
						Var0.f_97 = 1;
						Var0.f_99 = 132;
						Var0.f_98 = 0;
						Var0.f_69 = 7;
						Var0.f_62 = 255;
						Var0.f_63 = 255;
						Var0.f_64 = 255;
						Var0.f_74 = 255;
						Var0.f_76 = 255;
						Var0.f_9[1] = 6;
						Var0.f_9[2] = 8;
						Var0.f_9[3] = 1;
						Var0.f_9[4] = 1;
						Var0.f_9[5] = 1;
						Var0.f_9[6] = 5;
						Var0.f_9[7] = 8;
						Var0.f_9[9] = 2;
						Var0.f_9[22] = 1;
						func_1270(*iParam0, &Var0, 0, 1, 1);
						break;
				}
				break;