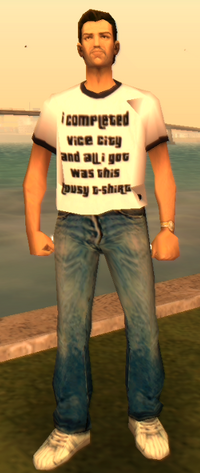 The Frankie Outfit is one of the 12 unlockable outfits in Grand Theft Auto: Vice City. It is available in Tommy's office in the Vercetti Estate (alongside his Street Outfit), after completing the game to 100%. The Frankie Outfit consists of a white T-shirt with "I completed Vice City and all I got was this lousy T-Shirt" written at the front in black Pricedown lettering, blue stone-washed jeans and white shoes. Changing into the outfit will remove up to a two-star wanted level, even if the player is already wearing it.
The outfit name and the T-shirt design are nods to the British music group Frankie Goes to Hollywood, who were famed for their sloganed T-shirts.  Their song, "Two Tribes", also features on Wave 103.
Trivia
In Grand Theft Auto Online, there is a very similar shirt which is part of the Heists Update, the shirts says "I completed all the elite challenges... (front) ...and all I got was this lousy t-shirt! (back)"
See also
Community content is available under
CC-BY-SA
unless otherwise noted.